Lord Advocate says jurors need expert help for sexual crime cases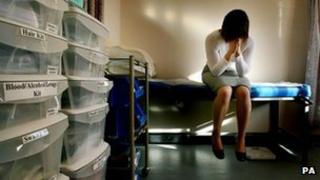 Jurors need to be better educated about the increasing complexities of sexual crimes, Scotland's Lord Advocate said.
Frank Mulholland told the public petitions committee that expert evidence was now being introduced to assist juries.
He added that pupils should be better educated about the dangers of being groomed for sexual exploitation online.
MSPs also heard from Alison Di Rollo, head of the National Sexual Crimes Unit.
Mr Mulholland explained to the committee: "What we're doing now is introducing expert evidence into these types of criminal trials to educate the jury.
"It is a common phenomenon that victims of rapes do not report rapes immediately to law enforcement.
"It's a common phenomenon in many cases that there is no physical resistance from victims during the commission of the crime.
"Some members of the public might be surprised at that, and it's always raised as a point in favour of accused persons during a trial.
"We know from speaking to experts in the field that there is counterintuitive behaviour.
"Part of that is to educate the jury that that is not significant, and we're doing that through expert evidence.
"Jurors are hearing this and hearing explanations for behaviours. It's the same with children who are victims of sexual abuse."