Baby ashes scandal: Parents vow to keep fighting for inquiry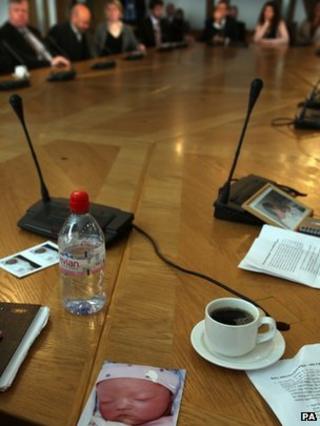 Bereaved parents have vowed to keep pushing for a public inquiry into the disposal of the ashes of their dead babies after meeting the first minster.
It has emerged that ashes were being buried or disposed off for decades without the knowledge of families.
First Minster Alex Salmond said the meeting had been "very emotional" and that a commission to examine the scandal was a "national response".
One parent said she was saddened there was still no move for a public inquiry.
Last week, parents from across Scotland brought pictures of their children to show to a meeting of MSPs at Holyrood.
Mr Salmond was not present and agreed to meet with affected parents on Thursday.
'Terrible events'
Speaking at First Minister's Questions last week, he indicated he would not rule out a public inquiry into the disposal of ashes.
But after the meeting, Mr Salmond said: "I have every sympathy for parents who have lost their babies, and for those parents who have learned that the cremated remains of their babies were dispersed or buried without their knowledge or consent.
"The Infant Cremation Commission, which we have established under the chair of Lord Bonomy, is a national response to that situation. It is in the process of thoroughly examining the policies and practices in all crematoria in Scotland and will report by the end of the year.
"This will allow us to legislate next year to prevent these terrible events from ever happening again."
One of the 14 parents he met, Linsay Bonar, was told there would be no ashes following her son's cremation. He died in 2006 at just 33 hours old.
She said: "After two hours we left the office and we felt as if we had been listened to as parents. I think they certainly took everything we said on board.
"I'm a bit saddened to say they are not changing their position on a public inquiry at the moment.
"I think it's terribly disappointing for parents involved and for those outwith Edinburgh. We put it to the first minister that the investigation isn't covering a wide enough span.
"The group will still be pushing for a full public inquiry."
Cremation Commission
In December, it emerged that Mortonhall Crematorium in Edinburgh had secretly buried ashes.
Since then, crematoriums in Aberdeen and Glasgow have also been implicated.
An independent Infant Cremation Commission, led by Lord Bonomy, has been set up to look at the scandal.
Separately, an investigation into past practice in Edinburgh is being conducted by former Lord Advocate Dame Elish Angiolini - but parents have said a public inquiry is needed to get to the truth.
It is thought the practices were being carried out from the 1960s until 2011.