Scottish schools music tuition fees 'review needed'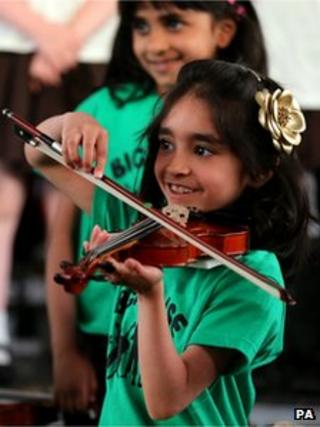 A group set up by the Scottish government to look at music tuition in schools has recommended tighter rules on charging.
It said local authorities should not ask pupils to pay for presentation at SQA music examinations.
The group's report also said pupils' individual circumstances should not be a barrier to access.
The teaching union EIS, which has been campaigning on the issue, has welcomed the report.
In its recommendations, the Scottish Government Instrumental Music Group said: "There should be a general principle that pupils' individual circumstances should not be a barrier to their ability to access and benefit from instrumental music tuition.
"Local authorities should review their charging policies and concessionary schemes to ensure that pupils in their area are not prevented from learning a musical instrument because of their background, location, disability or financial circumstances."
The group was chaired by David Green, a former convener of Highland Council.
It was set up after Learning and Skills Minister Dr Alasdair Allan said the government wanted greater clarity on the issue.
Access 'a right'
EIS General Secretary Larry Flanagan said: "The EIS has been campaigning for an end to fees for instrumental music instruction across Scotland.
"We believe that access to free instrumental music tuition should be a right for all pupils who wish it, in all parts of Scotland.
"Learning to play a musical instrument, or developing their singing voice, offers a great deal to pupils over and above the obvious musical benefits."
The EIS has called for an end to all charges for music tuition in schools.
Mr Flanagan added: "We have already seen some councils, who have charged fees in the past, taking pre-emptive action to scrap their music fees in advance of today's report."
Speaking at the official launch of the study, Dr Allan said: "The report recommends that authorities review their charging policies for instrumental music tuition associated with SQA exams. No student should be denied the chance to develop their musical talent due to their background or location.
"The removal of these charges will allow all pupils to enjoy the benefits of instrumental musical education and achieve qualifications without facing fees - just like every other qualification subject."