Johann Lamont in Scottish Labour front bench shake-up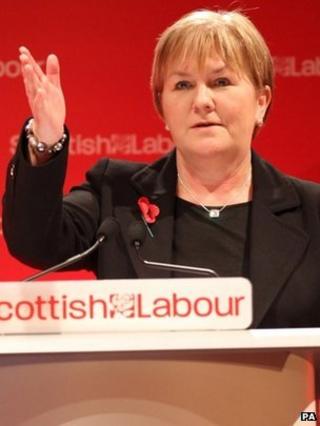 Scottish Labour's front bench team at Holyrood has been extensively re-organised by leader Johann Lamont.
Former leader Iain Gray has been brought back to a senior position. He will be Labour's spokesman on finance at the Scottish parliament.
Mr Gray replaces Ken Macintosh, who stood against Ms Lamont for the leadership.
Ms Lamont said her "refreshed" team would build "a new relationship with the people of Scotland".
In other moves, Lewis MacDonald replaces James Kelly as chief whip.
Mr MacDonald's previous role at justice will be filled by Graeme Pearson, a former police officer who was also director of the Scottish Crime and Drug Enforcement Agency.
Jackie Baillie leaves health to become spokeswoman for Labour on social justice, equalities and welfare.
Speaking after he heard he was being dropped from the front bench, Mr Macintosh said: "I am naturally disappointed to not have the opportunity to finish the work my team and I have been doing, but I am delighted that Iain Gray is returning to frontline Scottish politics.
"When Johann and I stood against one another for the leadership we both committed to building a united Labour team and I will continue to give her and the new shadow cabinet my full support, as I have done every minute of the past year."
These are the roles of the new front bench team:
Leader of the Scottish Labour Party - Johann Lamont
Deputy Leader - Anas Sarwar
Finance - Iain Gray
Education - Kezia Dugdale
Health - Neil Findlay
Justice - Graeme Pearson
Infrastructure and Capital Investment- James Kelly
Constitution - Drew Smith
Social justice, equalities and welfare - Jackie Baillie
Youth employment and Deputy Finance - Jenny Marra
Local Government - Sarah Boyack
Culture - Patricia Ferguson
Rural Affairs and Environment - Claire Baker
Business Manager - Paul Martin
Chief Whip - Lewis Macdonald
Richard Baker is to take on a wider policy review role while Jackie Baillie will be manifesto co-ordinator
Announcing the reshuffle, Ms Lamont said: "We have made a great deal of progress in the last 18 months but we have to keep moving forward.
"I believe this refreshed shadow cabinet team is the right blend of youth and experience which can take forward the job of modernising the Scottish Labour Party, holding the Scottish government to account and building a new relationship with the people of Scotland and policies which meet their needs."
She added: "I would like to thank those members of the frontbench team who are moving on for their dedication, and am certain they will make a contribution to getting Scottish Labour back into government."