Scottish independence: Darling says being part of UK is 'positive choice'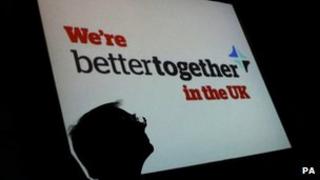 Scots should make a positive choice to remain part of the UK, the head of the Better Together campaign has said.
Alistair Darling told a gathering at Glasgow University that it should not be "merely" a matter of rejecting the "risks" of independence.
He also said the UK gave young people in Scotland "bigger opportunities".
The people of Scotland will take part in an independence referendum on 18 September next year.
They will be asked the yes/no question: "Should Scotland be an independent country?"
Mr Darling delivered a lecture to activists and academics at the university at the start of Better Together's summer grassroots campaign.
He said that "making a positive choice for the United Kingdom is as much a matter of the heart as well as the head".
The Labour MP said backing the union was not merely about rejecting the "risks and uncertainties of independence".
He highlighted the importance of issues such as jobs, the economy, defence, public services and pensions in the run-up to the referendum.
Border crossings
Mr Darling said: "The arguments for staying in the United Kingdom to protect and secure these interests are compelling."
He added: "The complete freedom of movement that we enjoy provides immediate opportunities for young people to have careers that span the whole of the UK.
"Our young people can take up jobs anywhere in the UK, with no barriers or administrative difficulties.
"On average, 40,000 people a year move back and forth across the border to take the opportunities that arise.
"That's why more than 830,000 Scots are now living and working elsewhere in the UK, and why 450,000 of those happy to live and work here in Scotland were born elsewhere in the UK."