Audience plea for TV debate programme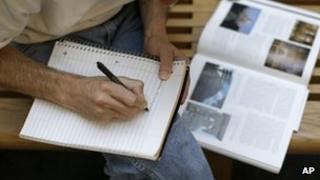 The BBC's Newsnight Scotland programme is appealing for members of the public to join an audience for its next debate on issues associated with the independence referendum.
The programme makers want to hear what you think about Higher and Further Education in Scotland.
They also want to know your opinions on the way universities and colleges operate, their funding, admissions policy and research resourcing.
Do you think independence would be good or bad for post-school education in Scotland? Or does the status quo offer a weaker or stronger future for the tertiary education sector?
If you would like to discuss these and other issues with an invited panel of guests, please fill in the application below.
The special programme will be recorded on Monday, 28 October, at BBC Scotland's Glasgow headquarters. Participants will need to be available from 17:45 to 20:30.
Guidelines require the BBC to reflect a broad range of views.
To help us do this, we will ask all members of the audience whether they are associated with a political party, if they already have a view on the referendum and where in the British Isles they are from.
Voters in Scotland will go to the polls on Thursday, 18 September, next year when they will be asked the straight yes/no question: "Should Scotland be an independent country?"