Alex Neil to address Estonian conference on alcohol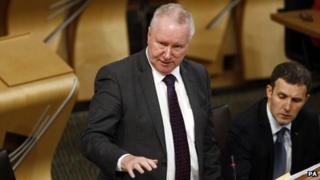 Scotland's health secretary Alex Neil will travel to Estonia this week to address a conference on alcohol.
Mr Neil was invited by the Estonian government to outline Scotland's position on the minimum unit pricing of alcohol.
The Scottish Parliament has passed legislation which seeks to introduce a minimum price of 50p per unit.
The plan has faced legal challenges from European wine and spirit producers and the Scotch Whisky Association.
Estonia has a similar level of alcohol consumption to Scotland and the two countries have comparable rates of chronic liver disease and cirrhosis, the Scottish government said.
Mr Neil will tell the conference there is a growing consensus that minimum pricing is "the right thing to do".
The Scottish government believes minimum pricing will lead to a cut in hospital admissions and a reduction in crime, as well as saving the public purse millions in dealing with the consequences of alcohol misuse.
'Hugely encouraging'
Mr Neil is expected to say: "Last week Ireland announced its intention to follow Scotland's lead and it is hugely encouraging that I have been invited to Estonia to show how we are pushing forward the case for minimum unit pricing.
"Levels of alcohol consumption are not just a problem for individual European countries - alcohol consumption in Europe is almost double the world average.
"The Scottish proposal is likely to become the precedent-making case which will set out the law for the next generation, not only on the use of the price in relation to alcohol, but the use of price for any public health purpose.
"I urge countries to support Scotland's stance and join us in making public health measures much more prominent."
In May the Court of Session dismissed a legal challenge by the Scottish Whisky Association to minimum pricing, saying that the measure was not incompatible with EU law.