Scottish independence: Pennington warns of risk to new scientific ideas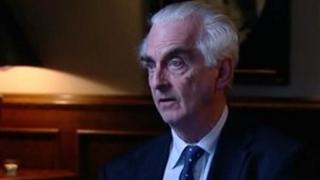 Scottish independence could jeopardise scientific breakthroughs, leading bacteriologist Prof Hugh Pennington has warned.
Prof Pennington also said a "Yes" vote in next year's referendum could curtail the careers of young scientists.
He is spearheading the new group Academics Together, an arm of the pro-UK Better Together campaign.
Pro-independence campaigners said Scotland's global reputation in the area would continue.
Prof Pennington, emeritus professor of bacteriology at Aberdeen University, said Britain had an integrated and internationally renowned UK research base.
He explained: "I would hate to see our world-leading reputation for innovation and discovery put at risk.
"I would hate to see the next big breakthrough jeopardised or see the chances of a young researcher curtailed."
The scientist added: "The absence of barriers allows not just funding and people, but ideas and innovation, to flow freely across borders.
"I don't want to put the success of Scotland's world-leading research at risk."
Better Together leader Alistair Darling said Scottish research facilities and universities in Scotland got a disproportionately high share of UK research funding.
He added: "We make up around 8% of the UK population but get over 13% of UK research funding in return.
"That is a clear, positive benefit of being part of the UK."
A spokesman for the pro-independence Yes Scotland campaign said: "There is no doubt that deciding higher education policy in Scotland rather than at Westminster has been of huge benefit to our universities, students and academics and that will continue with independence."
The people of Scotland go to the polls on Thursday, 18 September, next year when they will be asked the straight "yes/no" questions: "Should Scotland be an independent country."