Alistair Darling calls for new Falkirk vote-rigging inquiry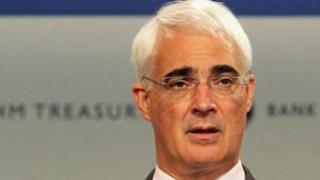 A former Labour chancellor has added his voice to calls for a new inquiry to be carried out into vote-rigging claims in Falkirk.
Alistair Darling said it was clear the original Labour Party inquiry "didn't have all the facts".
In September, Labour said it had cleared the Unite union of trying to rig the selection process for a parliamentary candidate in Falkirk.
It said the decision was made after "key evidence" was "withdrawn".
But a couple at the heart of controversy, Michael and Lorraine Kane, have since insisted they did not change their statements to the party.
Their memberships of the Labour Party were alleged to have been paid for by Unite on the basis that they would support the union's preferred candidate for the seat.
Mr Kane told the BBC: "I gave statements a while ago and that's it finished with."
Asked if he changed his initial statement to the party Mr Kane said "No. I never changed nothing."
Mr Darling told BBC Scotland he believed something had "gone very wrong in Falkirk" and there "needed to be a thorough investigation".
He said: "I understand the police are looking at it now. If the police decide to proceed they will send a report to the procurator fiscal and then it goes through the criminal justice system.
"If the police for whatever reason decide they are not doing it then there needs to be a proper inquiry, one that people have confidence in, people can see what happened.
"Its results need to be published so that people can see exactly what happened and to make sure this sort of thing doesn't happen again. It has got no place in politics.
"I think the problem with the last report was quite clearly it didn't have all the facts that are now available."
He added: "I think what people will want to know is, in the light of what is now known, with all these emails and everything else, what was going on, who was responsible, and what are we going to do about it?
"Either the police do that, or it has to be done by a separate inquiry. Either way, I am very clear that you have got to have a proper inquiry. You can't just leave matters as they are".
Several Labour councillors in Falkirk have told the BBC that Ed Miliband must now publish the party's report on the affair or re-investigate what happened.
The leader of the Scottish Labour Party had earlier said the inquiry into the Westminster candidate selection process for Falkirk may have to be reopened.
Johann Lamont told the BBC "we certainly have to look at that" because of concerns the investigation "wasn't entirely complete".
But Ms Lamont said there were no plans to make the inquiry's report public.
She told BBC Radio Scotland's Good Morning Scotland programme that internal investigations conducted by political parties were never published.
At the weekend it was revealed that Stephen Deans, the chairman of Falkirk Labour Party, intended to stand down from his post.
Mr Deans, who had been a full time Unite official at the Grangemouth oil refinery and petrochemical plant, had been accused of being involved in vote-rigging in Falkirk, but was later cleared by Labour's internal investigation.
Ms Lamont was asked by presenter Gary Robertson whether she had spoken to Mr Deans.
She responded: "I didn't believe it appropriate for me to speak to Stevie Deans.
"What I am very clear - this is about a situation that is entirely unacceptable for the Labour Party that we have presumed through the selection process that if you can get selected, we presumed that voters will come with us afterwards - that is entirely the wrong message."
The MSP said a lot of what had happened was unacceptable, but she believed the party needed to move forward and select a candidate to fight the 2015 General Election for the Falkirk constituency.
Ms Lamont said: "I am absolutely convinced that when a candidate is selected their focus will be on engaging again with the electorate rather than the process which is currently going on, which is deeply unedifying."
The Scottish leader said she had seen the internal report and was aware of its findings.
Key witnesses
Ms Lamont would not directly answer whether members of the Falkirk Party should see the report for themselves, however, she said they deserved for "us to move forward".
When it was put to her in the interview that there was cause for the inquiry to be reopened, Ms Lamont said: "We certainly have to look at that because there is obviously a concern that if the investigation wasn't entirely complete.
"But again I say, these matters are ongoing and complaints have been forwarded to the police."
She insisted it was vital the party went beyond the "claim and counter claim" but she admitted a line had not yet been drawn under the matter.
At the weekend, the Sunday Times said it had seen 1,000 emails to and from Mr Deans, which it said revealed the full extent of the plot to influence the selection process.
Its story also included extracts of the internal Labour report in which Labour officials said there were "deliberate attempts to frustrate" interviews with some of the key witnesses.
The emails suggested that a letter retracting key evidence in the Labour investigation was not written by the witnesses but by union officials and approved by Mr Deans, according to the Sunday Times.
Police in Scotland, who earlier this year dropped an investigation into the Falkirk allegations, are studying the leaked emails.