Put your referendum questions to our economic experts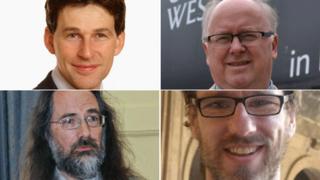 The economy will be the theme of the BBC news website's latest Scottish independence referendum webcast.
Robin McAlpine, director of the Jimmy Reid Foundation, and Prof John Struthers from the University of the West of Scotland, will be in the spotlight, answering your questions.
They will be joined by the chairman of Reform Scotland, Ben Thomson, and Prof Mike Danson from Heriot-Watt University.
The panel will debate whether the Scottish economy will flourish if voters say "Yes" to independence or whether it will be stronger as part of the UK.
Presenter Bill Whiteford will put your questions on the wide-ranging topic to the four guests.
What impact do you think independence would have on the economy? Would it be positive or negative? What economic structure should an independent Scotland take? Can we rely on North sea oil? What currency would Scotland use? How will such a small independent nation cope economically on a global platform?
If you have something to ask Mr MacAlpine, Prof Struthers, Mr Thomson or Prof Danson email newsonlinescotland@bbc.co.uk
Please put "Referendum questions" in the message field of your email.
Scotland's electorate will go to the polls on 18 September, 2014.
Voters in the referendum will be asked the single yes/no question: "Should Scotland be an independent country?"
The interview will be published on BBC Scotland's politics website.