Scottish independence: UK defence 'better' for Scotland, two experts claim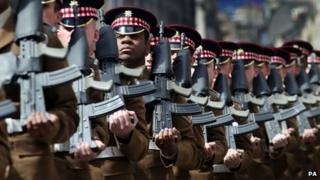 An independent Scotland would be less well protected with its own defence and security force, two military experts have told a conference.
Retired Lt Gen Sir Alistair Irwin said there was "no question" that Scotland and the UK were better off under current defence arrangements.
Former security chief Sir David Ormand said being a "neutral" country would not stop cyber attacks.
The Scottish government said Scotland would have a "first-class" defence.
Speaking at a conference on global security at Glasgow University, Sir Alistair, a retired Black Watch commander, said anecdotal evidence suggested there would be difficulties in recruiting military personnel post-independence.
He said: "The result of a split, in my opinion, would be a British Isles collectively less well defended and whose global interests would be much less well served than they are now.
'Profligate'
"Lurking very close to the surface is the nagging thought that with tight budgets and ever-increasing demands being made upon them, to spend money in Scotland replicating all the existing UK-wide policy, administrative and practical functions that are needed to sustain a defence force seems profligate, to say the least of it."
He said Scotland risked being "inadequately protected".
Sir Alistair, who retired after overseeing a major restructuring of the army, said a "small but perfectly formed" Scottish military was possible.
But he asked: "Is forming an independent Scottish defence force the right thing to be doing or are the difficulties I have mentioned a clear warning sign of unacceptable risk and danger?"
The SNP's current plan is for a £2.5bn defence budget, the removal of the Trident nuclear missiles from Scotland and continued membership of Nato.
More detail is expected in the Scottish government's independence White Paper, due out on 26 November.
'Fair share'
Sir David, the UK's former "homeland security" coordinator, said security should not be reduced on either side of the border if Scotland votes for independence.
Asked if that was achievable, he said: "Under no circumstances, definitely not."
Setting up as a more neutral country would not necessarily stop cyber attacks on financial institutions with strong international links, he said, adding that the SNP had underestimated the cost of setting up a defence and security force from scratch.
A Scottish government spokesman said: "An independent Scotland will have first-class conventional forces which will play a full role in defending the country and co-operating with international partners, but we will not waste billions of pounds on Trident nuclear weapons.
"Scotland stands to inherit a fair share of existing UK defence assets, as the UK government has now conceded, and an annual defence and security budget of £2.5bn will represent an increase of more than £500m on recent UK levels of defence spending in Scotland."