Scottish independence: Tax plan to 'support business' to be outlined by SNP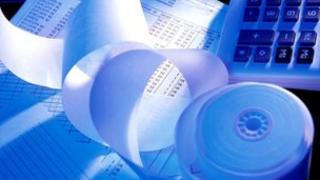 The SNP has said it would introduce a tax regime to "support" business if Scotland votes for independence and it is in government.
Scottish Finance Secretary John Swinney will publish his economic plans later this week.
The report will propose a new corporation tax regime designed to help small and medium-sized businesses.
A UK government spokesman said Mr Swinney had yet to explain how proposed tax cuts could be afforded.
The independence referendum takes place on 18 September 2014, with voters in Scotland being asked the yes/no question: "Should Scotland be an independent country?"
'Distinct approach'
This week's Scottish government economic report is expected to focus on a "distinct approach" to corporation tax, capital allowances, national insurance and access to finance.
It will come ahead of the nationalist administration's White Paper on the independence referendum, which will be published on 26 November.
Mr Swinney said: "There can be no doubt that while Scotland is performing well within our limited powers we are lagging behind other comparable countries on key measures including productivity and labour market outcomes."
He added: "We want to create the most supportive business environment we can to help create long-term, secure growth with greater job opportunities and more prosperous businesses."
The report, to be released by Mr Swinney and First Minister Alex Salmond, aims to show that Scotland performs relatively strongly compared with the UK.
National insurance reliefs could also be used to support employment and recruit staff, the report suggests.
A Scotland Office spokesman said the Scottish government should "stop talking Scotland and the UK down".
The spokesman added: "We are the most prosperous part of the UK outside London and the South East. Scotland has performed just as strongly or better than similar sized independent countries by being part of the UK."
He added: "The Scottish government claims to want to cut business tax but fails to explain how their proposals would be funded. They cannot keep dodging basic questions about the economics of independence."
'Civic Scotland'
Meanwhile, hundreds of people from "Civic Scotland" are being invited to question Mr Salmond and his team of ministers about the SNP's formal plan for independence.
Businesses, trade unions, volunteers and others will be able seek answers on the content of the White Paper two weeks after it is unveiled.
The event in Edinburgh will be held on 10 December and will be broadcast live online.
Mr Salmond said: "We have a responsibility to provide as much information as possible to the people who will cast their vote in the referendum, allowing them to make an informed choice about the future of their country."