UK green policy risks development, say Scots ministers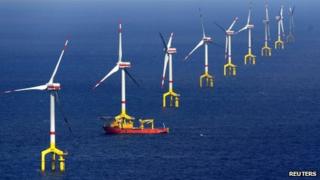 UK government policy on green energy developments risks future development in the industry, Scottish ministers have said.
Westminster ministers have said they would cut support for onshore wind and solar energy, but give more backing to offshore wind power.
The shift was described as a "a rebalancing", with no change in overall spending.
The Scottish government said the offshore concession was "modest".
Labour said "chopping and changing" pricing was bad for business.
Under the UK government plans, the price producers are promised for onshore wind power and solar energy will be cut from 2015, while the amount paid for offshore wind power will be increased.
Government sources said there had been so much investment in onshore wind and solar energy that they no longer needed so much state support.
In contrast, they said, offshore wind sources still needed more subsidy to encourage long-term investment.
At the same time, Downing Street denied that the move was in response to public concern that wind farms were blighting the countryside, with the prime minister's official spokesman adding: "The decision was based purely on the falling cost of onshore wind farms."
The Scottish government said renewable energy developments should continue in as many areas as possible, provided projects were suitable located.
SNP Energy Minister Fergus Ewing, said: "Whilst I welcome the modest concessions made to the offshore sector, I am concerned that Scotland and the UK are forfeiting the opportunity to develop this industry - thus losing out on jobs and investment.
"However, the UK's ambitions for offshore wind, wave and tidal are still pitched too low, and the risk remains that this support will not be sufficient to build capacity in the supply chain and attract the necessary levels of inward investment to Scotland."
But the UK government's announcement was welcomed by developer Mainstream Renewable Power, whose planned 450-megawatt, offshore wind farm in the outer Firth of Forth will become one of the first projects to benefit from the new scheme.
Chief Executive Andy Kinsella, said: "Today's announcement is a key driver in enabling Mainstream to reach financial close with the project in 2014 and to start construction in 2015."
'Ham-fisted'
"The project remains on track to be the first large-scale offshore wind farm deployed in Scottish waters and the first offshore wind farm in the UK to attract true non-recourse project finance at the construction stage.
"We look forward to continuing our work with Department of Energy and Climate Change to secure an investment contract in early 2014."
But another renewable energy firm, Glasgow-based UrbanWind, accused the UK government of "pandering" to anti-wind farm campaigners.
Its chief executive, Paul McCullagh, said small-scale, onshore wind was a vital part of Britain's future energy mix.
"The government has ham-fistedly and naively lumped all types of on-shore wind together and made the draconian move of cutting subsidies across the board," he said.
Gina Hanrahan, from environmental body WWF Scotland, welcomed increased support for offshore wind, but added: "Unless offshore wind is rolled out at greater scale by 2020, we risk not achieving the cost reductions we need to establish the UK as an offshore wind powerhouse."
The shift on wind energy came ahead of Chancellor George Osborne's Autumn Statement, which he will deliver to MPs on Thursday.