Scottish independence: Better Together reveals donor list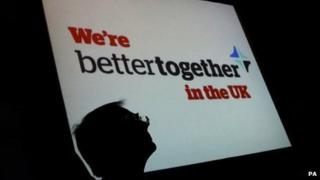 The pro-Union Better Together campaign has received more than £1.6m in donations since April.
Figures released by the group showed the biggest single donor was businessman Donald Houston, who gave £100,000 and a further £500,000 through two of his companies.
Andrew Fraser, an investment banker, gave £200,000, while company chairman Alan Savage contributed £150,000.
A spokesman for the campaign said he was "humbled" by the donations.
In total about 17,000 people contributed to the campaign in the last nine months, according to the figures, with most donating less than £500.
Among the other significant donors listed were author Christopher Sansom, who gave £133,000, and Arsenal chairman Sir Chippendale Keswick, who contributed £23,000.
Since April, Better Together has received £1,649,643 in donations, bringing the total amount to £2,768,094 since the the launch of the campaign in June 2012.
Better Together's director Blair McDougall said: "We are humbled by the number of supporters who have made a contribution.
"Even in tough economic conditions thousands of people are playing their part in keeping Scotland a strong part of the United Kingdom."
Mr Houston, who owns the Ardnamurchan Estate and is director of the Adelphi Distillery on the peninsula, said: "We have spent 300 years building a union between our countries that has achieved so much. Ripping up that union to satisfy the SNP is a ridiculous idea."
Mr Savage, who is chairman of the Inverness-based Orion Group, said: "My support for the Better Together campaign is stronger than ever following the publication of a White Paper that does nothing to convince me that independence would be a force for good for Scotland, Scottish people, the Scottish business community and the rest of our friends in the UK."
'Tory front'
However, SNP MP Angus Robertson said the identity of the donors highlighted the "Tory roots" of the Better Together campaign.
He added: "This list of donors to the No campaign is further proof that the anti-independence campaign is Tory to the core.
"No wonder traditional Labour supporters and grassroots members are turning their backs on the No camp, which is simply a Tory front organisation funded by the same super-rich individuals who fund the Conservatives."
In April this year, the pro-independence campaign group Yes Scotland revealed it had received more than £1.7m in donations since its launch in May 2012.
Large donors included Ayrshire lottery winners Christine and Colin Weir, who each gave £500,000 to the campaign.
Investment fund manager Angus Tulloch donated £250,000, and the SNP contributed £342,797.
Yes Scotland said it would publish further information about donations in due course.
A spokesman added: "It continues to be our policy to accept significant donations only from people who are entitled to vote in the referendum."