MSPs seek views on new Scottish tax authority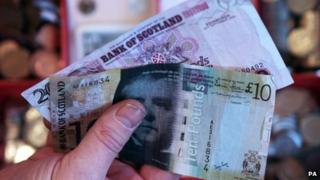 MSPs have called for views on the legislation that will set up Scotland's new tax authority.
Revenue Scotland will collect and manage two devolved taxes from April 2015.
The Revenue Scotland and Tax Powers Bill was published last week, with the finance secretary saying the authority would be "vigorous" in its approach.
Tax experts, business leaders, academics and the public are being encouraged to give their opinions.
Holyrood's finance committee made the call as part of its scrutiny of the bill, which will formally establish Revenue Scotland as the tax authority with responsibility for the land and buildings transaction tax and the Scottish landfill tax.
It also includes new legislation giving Revenue Scotland powers to deal with artificial tax avoidance schemes and provisions for Scottish tax tribunals, self-assessment and enforcement.
The legislation will need the approval of the Scottish Parliament before becoming law.
Finance Secretary John Swinney has said Revenue Scotland will provide the basis for more taxes to be collected in Scotland.
Four maxims
Finance committee convener Kenneth Gibson MSP said: "This bill is probably the most important piece of legislation we will look at this parliamentary session because it provides the framework for ensuring that devolved taxes are collected efficiently and effectively.
"We particularly want to hear views on whether this bill reflects Adam Smith's four maxims with regard to taxes: certainty, convenience, efficiency and proportionate to the ability to pay."
Expert witnesses already lined up to give evidence include economists Sir James Mirrlees and Professor John Kay.
The taxes were among the new powers transferred to the Scottish Parliament in the Scotland Act 2012.