Scottish independence: Politicians at odds over Scotland's global standing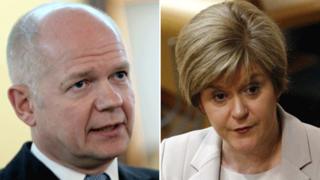 An independent Scotland would be able to engage with other countries as an EU member in its own right, Deputy First Minister Nicola Sturgeon has said.
She argued the alternative was continued representation by a Westminster government which "does not put Scotland first".
Later this week, UK Foreign Secretary William Hague will say the UK has a high level of international influence.
The comments come ahead of September's independence referendum.
On Thursday, 18 September, the people of Scotland will be asked the "yes/no" question: "Should Scotland be an independent country?"
Ms Sturgeon, who was speaking at the David Hume Institute on Wednesday evening, said that, if independent, Scotland would have benefited from an extra £850m in Common Agricultural Policy funding.
This, she said, would have supported an extra 2,500 jobs and boosted the economy by £1bn over the period 2014-20, while, as part of the UK, decisions taken by the Westminster government had left Scotland with the lowest farm payments in the EU.
Ms Sturgeon said: "The people of Scotland face a decision about the kind of Scotland they want to live in - one in which we take responsibility and decide our own future, or one in which we wait for things to happen to us.
"Should we continue to have the status of a region, lobbying Westminster in the hope that the UK government will protect our interests and promote our values?
"Or should we have the powers and status of an independent country, able to engage directly with the international community."
On Friday, Mr Hague and Chief Secretary to the Treasury Danny Alexander launch a UK government paper in on the EU and international issues in Glasgow.
It will argue the UK has one of the world's most extensive and well-respected diplomatic networks, employing more than 14,000 people in 267 embassies, high commissions and consulates in 154 countries and 12 overseas territories.
The paper will also stress that Scotland-based businesses benefit from efforts to protect the UK's economic interests, like defending Scotch whisky against counterfeiting.
It will also look at the implications of an independent Scotland's membership of organisations like Nato.
The foreign secretary, said: "I believe that we are safer and stronger together, and that together we can do more good in the world."