MSPs call for more transparency on rural school closures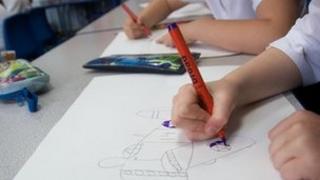 MSPs have called for more transparency and safeguards from the Scottish government over rural school closures.
The Scottish Parliament's education committee questioned Education Secretary Mike Russell on proposed changes to the law on shutting schools.
The minister had introduced amendments aimed at making the process more transparent.
But opposition MSPs said he had ignored a recommendation to fully consider the effect on rural communities.
In the final session of the committee's consideration of the Children and Young People (Scotland) Bill, the education secretary introduced an amendment allowing "special provision" for proposals to close rural schools.
Mr Russell said the change to the bill set out the "detailed, careful consideration" an education authority must give to a proposal to close a rural school.
The amendment would require the authority to give its reasons for proposing a closure and to consider any "reasonable alternatives".
Mr Russell added that an amendment to allow for closure proposals to be referred to an independent review panel would "remove allegations of political bias" from the process, though he denied that ministers had ever been biased over school closures.
'Free from threat'
Conservative MSP Liz Smith criticised the Scottish government for not implementing a key proposal from the Commission on the Delivery of Rural Education, which it established in 2011 in conjunction with local government body Cosla.
The commission recommended that, even if the impact of a school closure on education was deemed to be "neutral", an education authority must ensure that "any other factors are fully and transparently scrutinised, including identifying clear overall benefit to the rural communities involved".
Liberal Democrat Liam McArthur and Labour's Neil Bibby also urged acceptance of the recommendation.
Mr Bibby said Cosla was "concerned it will be far harder for local authorities to take necessary decisions on the school estate" if the recommendation was not implemented.
Ms Smith also proposed that, if an authority did not proceed with a rural school closure, a school should be free from the threat of closure for at least five years afterwards.
She argued that a moratorium would encourage parents to "commit" to sending their children to a school, "safe in the knowledge the school has a medium-term future".
The committee backed the education secretary's amendments and Ms Smith's call for a five year moratorium.
The bill, which also includes provisions on childcare, health and welfare and young people leaving care, will need the final approval of the Scottish Parliament before it can become law.