Scottish independence: Jim Sillars says Labour 'could lead post yes Scotland'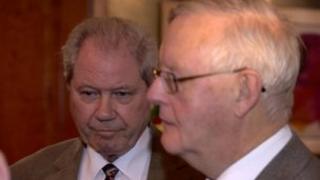 Labour could form the first government of an independent Scotland in the event of a "Yes" vote in the referendum, a former SNP deputy leader has said.
Jim Sillars made the comments as he launched a new book, outlining a socialist vision for independence.
The former Labour and SNP MP said "In Place of Fear II" was more radical than Scottish government policies.
On 18 September voters will be asked the straight "yes/no" question: "Should Scotland be an independent country?"
Mr Sillars, who founded Scottish Labour in the 1970s before moving to the SNP, said Labour voters would determine the outcome of the referendum.
His publication takes its name from the 1952 book "In Place of Fear", written by Labour left-winger Aneurin Bevan, who was best known for founding the National Health Service.
Mr Sillars said a "socialist" Labour government could be elected in Scotland in 2016 - but only if Scots opted for independence.
The Scottish government has already published its White Paper blueprint for independence, which back policies like a massive childcare expansion and a cut in business tax.
Mr Sillars said: "In Place of Fear II offers a far more radical road, with better policies than those the SNP offers, through its White Paper.
"The book demonstrates what the Labour Party leaders have been keen to hide: that socialist ideas born in Scotland have always been obstructed by the London connection.
"Independence is not only for Scotland, but for the Labour Party too, and for socialists within it.
"Independence through a socialist programme will strengthen the position of working people and their families, and remove fear from their lives."
Mr Sillars said he hope his book would appeal to left-leaning Labour voters, arguing that the core SNP vote, plus Scottish Socialist Party, Greens and small number of Tories and Lib Dems, would not be enough to ensure a "Yes" vote.
Mr Sillars' views were echoed later by the chairman of campaign group Yes Scotland.
Former Labour MP Dennis Canavan said a Yes vote in the referendum would not represent a change in party allegiance to the SNP, but could instead herald the return of Labour to power in the first elections for an independent Scottish parliament.
Addressing a rally in Glasgow organised by Labour for Independence, Mr Canavan said: "By asking Labour voters to vote Yes in the referendum, we are not asking them to change their party allegiance.
"A Yes vote is not a vote for Alex Salmond or a vote for the SNP. On the contrary, independence could help secure the election of a Labour government in Scotland.
"Labour supporters can vote Yes in the referendum and then vote Labour in the first elections to the Scottish Parliament in 2016."