Scottish independence: Convention calls for women's voices to be heard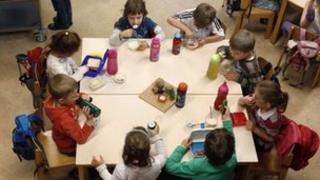 The deputy first minister and shadow Scottish secretary have addressed a convention on Scottish independence amid concerns women's voices are not being heard in the debate.
More than 150 women met in Glasgow for the Scottish Women's Convention event.
Conference organisers said many women felt they lacked the information to make an informed decision on independence.
Both sides of the debate have highlighted the need to engage women.
Deputy First Minister Nicola Sturgeon spoke for the pro-independence Yes Scotland campaign and Labour MP Margaret Curran addressed the meeting for the pro-Union campaign Better Together.
The Scottish Women's Convention (SWC) was established in 2003 with the intention of ensuring that women's views reach policymakers.
Before the debate, SWC chair Agnes Tolmie said: "Women need to have their voices heard as part of the debate around Scotland's future. They are the cornerstone of communities - socially and economically.
"The campaigns need to engage with women and listen to their concerns and emerging issues.
"This event will ensure that those attending are able to raise and seek answers to the issues which are important to them."
Independence 'gains'
Ms Sturgeon set what she believes are the "six gains of independence" for women, focusing on childcare, the minimum wage, equalities issues, pensions, benefits and economic opportunities.
She said: "With devolution we have been able to increase the amount of childcare available - we announced a further extension just a couple of weeks ago.
"But with independence we can go beyond this, and deliver our ambitious plan for the provision of free universal childcare for all children aged 1-5 - a policy that when fully implemented would save families up to £4,600 per child per year.
"This is a social and economic transformation that, as a matter of fact, can only be achieved when we have access to all of Scotland's resources. And that's why we need independence to deliver it in full."
'Working together'
Ms Curran spoke of progress made on women's rights by Labour women such as Barbara Castle, Maria Fyfe and Harriet Harman.
She said: "These changes altered women's lives forever. And since they were put in place by a Labour government, no government - not even the Tories - have got rid of them.
"How did we achieve these changes? We did it with women working together across the UK."
She also argued that families in Scotland benefit from £2.6bn in tax credits and she will also accuse the Scottish government of offering "no certainty" of the future of these benefits in the event of independence.
On 18 September voters will be asked the straight "yes/no" question: "Should Scotland be an independent country?"