At-a-glance: Report on the economics of Scottish independence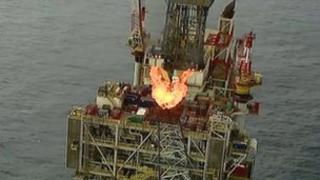 The National Institute of Economic and Social Research (NIESR) has published a wide-ranging economic review of the case for Scottish independence.
In a paper entitled Scotland's economic performance and the fiscal implications of moving to independence, authors John McLaren and Jo Armstrong look at what independence could mean for Scotland's economy.
Scotland's economic performance and fiscal make-up are key elements in the debate ahead of September's referendum on independence.
However, in terms of understanding Scotland's economic performance, the situation is complicated by the high degree of overseas ownership, especially with regards to North Sea activity, and the importance of a natural commodity, oil.
Their paper says:
No 'surplus' revenues would be available to fund a Norwegian-style oil fund.
In order for the onshore net public sector transfer from the rest of the UK to Scotland to be (more than) met from an alternative source after independence, North Sea revenues would need to equal, or be greater than, the existing £7bn net transfer.
The Office of Budget Responsibility made long-term forecasts of future oil prices based on three different scenarios. No scenario resulted in Scottish sector North Sea tax revenues achieving the £7bn required to offset the current estimated Barnett-related loss.
If the Scottish government is correct with its initial work on calculating a Scottish Gross National Income (GNI) then this implies that Scots are richer than has been previously recognised. Scotland would have a very large current account surplus, which would in turn mean that its economic prospects would be much brighter than the rest of the UK's.
The value of commodity-related revenues, such as with North Sea oil, is one of the hardest of all government funding sources to predict.
Over the decade to 2011, in per capita terms, Scotland has performed in line with the UK in constant price terms GDP excluding North Sea, and well above the UK by cash terms GDP including North Sea.
These contrasting results suggest that inflation is higher in Scotland compared to the UK as a whole over this period. Adjusting for Scotland's slower population growth, to derive GDP growth per capita, eradicates the real terms UK advantage and increases the cash terms annual growth advantage for Scotland.
Cuts to existing funding levels would need to be made to keep the same relative position as currently exists within the UK - unless North Sea tax revenues rise to well above currently forecast levels (ie the oil price rises well above the rate of inflation).
Money needed to pay for Scottish public services comes largely from the Treasury, either through UK spending departments or directly via the Barnett formula. Post-independence, the transfer of funds from taxes raised elsewhere in the UK would be lost to Scotland, but instead the majority (around 79% to 95%) of North Sea revenues would now come directly to the Scottish government.
Independence would mean that instead of a 'top-up' of onshore Scottish revenues via the operation of the Barnett formula, which to date has been relatively predictable, Scotland would instead benefit from a 'top-up' to such revenues via what is likely to be the less predictable flow of North Sea tax revenues.