Scottish independence: MP warns of border controls with rest of UK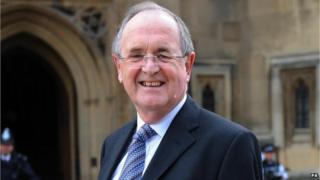 The MP for Berwick-upon-Tweed has said he expects there to be border controls in his constituency if Scotland votes for independence.
Liberal Democrat Sir Alan Beith claimed the border could become a place of "currency exchange kiosks and smugglers".
But the SNP's Angus MacNeil said people in Scotland and England would continue to "interact with each other freely".
The MPs were debating the future of Scotland and north east England.
Sir Alan told MPs in Westminster Hall there was "a great deal of apprehension" about the possibility of Scottish independence in his constituency, which is on the border with Scotland.
"Of course Scotland could be independent, but there is a price to be paid by both countries if that happens, and that price includes serious problems at the border," he said.
"If the United Kingdom, minus Scotland, does not have control of and does not know what Scotland's immigration policy is going to be, it cannot commit itself to an open border with Scotland.
"If the rest of the United Kingdom does not have any control over security in Scotland, it cannot have a completely open border."
He argued: "For anyone living near the border, unless you see your future entirely as a town of currency exchange kiosks and smugglers, we are much better together."
Mr MacNeil said an independent Scotland "will not be erecting any barriers" with its neighbours.
"We can continue to flow and to interact with each other freely," he said.
"The thing that will change of course is we will change our government from Westminster to Holyrood, to the most democratic forum representing the Scottish people."
He continued: "I would encourage people who feel that they can't possibly interact with people outwith their own borders to think bigger, to hope for better and to look for a greater future."
The MP for Na h-Eileanan an Iar argued that people in the north of England could benefit from job opportunities in Scotland and even from cheaper flights from Scottish airports, rather than having to go to the south of England.
Phil Wilson, the Labour MP for Sedgefield in County Durham, had tabled the Westminster debate ahead of Scotland's referendum on independence and on the same day that Alex Salmond was expected to tell an audience in London that "Scotland will not be a foreign country" after independence.
Mr Wilson said of pro-independence campaigners: "It seems to me that, to their internal Scottish audience, the English are those from whom they want independence, but to the north east of England, according to Alex Salmond, we're their closest friends.
"Call me old-fashioned. I don't think, if that was me, I would not close the door on my closest friends by asking for independence from the rest of the UK."
Mr MacNeil responded: "Is he saying the Swiss are not friends with the Austrians or the people of Liechtenstein just because they don't share a prime minister?"
He added: "It's not David Cameron that makes us friends."