Scottish independence: New row over post Yes student fees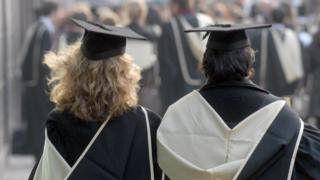 A fresh row has broken out over whether students from the rest of the UK could still be charged tuition fees if Scotland becomes independent.
The pro-Union Better Together campaign claim they would have to be offered free tuition under European law.
They claim up to 90,000 of Scottish students could be "squeezed out" of university if this happens.
But the Scottish government said it could maintain the current arrangements following a "Yes" vote.
Students who live in Scotland - and those from EU countries - currently get free tuition, while those from England, Wales and Northern Ireland are charged fees of up to £9,000 a year.
Under European law it is possible to discriminate between students from different parts of one state - but not between students from different parts of each state.
The pro-Union Better Together campaign argues that the current arrangements would be illegal under EU law if Scotland becomes independent.
Complicated legal advice for the body Universities Scotland suggests, however, that it may be possible to keep them in very specific circumstances.
Essentially, the Scottish government would need to prove to the European Commission that fees were necessary to avoid the university system here becoming "distressed".
Proposals to charge students from the rest of the UK (rUK) to study in Scotland were outlined in the Scottish government's White Paper for independence.
'False promises'
Better Together said Scottish government figures it obtained through Freedom of Information showed ministers expected between 20,000 and 90,000 Scottish students to be "squeezed out" by so-called rUK students coming north to avoid fees.
The figures spell out a range of scenarios around how many rUK students may come to Scotland to avoid the fees.
Scottish Labour's education spokeswoman Kezia Dugdale said: "Scottish parents and students will be angry to learn that Alex Salmond's promises on protecting Scottish universities are totally false.
"It's little wonder the SNP have refused to publish legal advice on this issue.
"Their case doesn't stand up to any scrutiny and even they know it."
But the Scottish government said the figures were not new, having already been made public in January as part of a speech by Education Secretary Mike Russell.
'Scare story'
At the end of last year, Deputy First Minister Nicola Sturgeon told Holyrood's European and External Relations Committee the "particular circumstances of the geography of Scotland and the rest of the UK" and Westminster's fees policy were key factors.
She said charging rUK students would be necessary to ensure Scotland did not risk "crowding our own students out".
A spokesman for Mr Russell described the intervention as a "scare story".
He added: "This is a bizarre intervention from Better Together.
"They seem to have only now woken up to the issue of fee refugees - people who would desperately like to escape the £9,000 per year university fees the Better Together parties have imposed south of the border.
"The reality is that we have broadly maintained the balance of Scots-domiciled and rUK-domiciled students in the face of the huge hike in fees south of the border.
"That is exactly what we will continue to do after independence.
"That's why we have said we will continue the current system and maintain free places for students resident in Scotland."
However, observers believe the Scottish government would almost certainly face a legal challenge under European law, which would probably take several years to conclude.