Scottish Labour conference: What is Ed Miliband's connection to Scotland?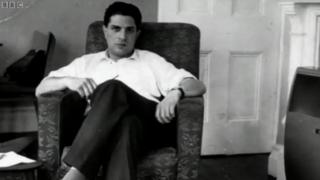 "Almost every family in Britain has a special story about their connection with Scotland" Ed Miliband told the Scottish Labour conference.
His story is about his father, Ralph Miliband, and his service during World War Two.
The Labour leader told delegates that his father was stationed in Inverkeithing, Fife, and that he symbolised "part of the history of our United Kingdom".
So what did Ralph Miliband do in World War Two?
Ed Miliband told the conference, which is meeting in Perth, that his father came to Britain in 1940.
He said: "My Dad came to Britain as a refugee from the Nazis and he wanted to fight fascism so he joined the Royal Navy.
"And 70 years ago he was stationed just 30 miles from here in Inverkeithing, where I was yesterday."
D-Day landings
Mr Miliband added: "His ship was HMS Valorous. It had people from all parts of the United Kingdom on it, from every walk of life, from every background. All part of a common purpose - fighting fascism."
HMS Valorous spent the war patrolling the North Sea, escorting convoys of smaller ships and protecting the British coastline.
Ralph Miliband served in the Royal Navy for three years during the war, achieving the rank of chief petty officer. He was most often tasked with intercepting German radio signals.
In June 1944, he took part in supporting the Normandy D-Day landings aboard a destroyer in the English Channel.
He later wrote in his diary that D-Day was "the biggest operation in history" and he "would not miss it for anything".
Mr Miliband saw further action at the Toulon landings in Operation Dragoon.
After the war, Mr Miliband returned to academia and became one of the UK's most prominent Marxist thinkers.
But it was his involvement in World War Two which Mr Miliband drew attention to in his speech, saying it was symbolic of the UK's history.
He said: "That story I've told you about my Dad, and that history, is part of the history of our United Kingdom. A history of great causes, of internationalism, of the battle of social justice.
"The reason that story and history matters to me is not because it's a monument of the past, but because of what it teaches us about the future.
"Because here's the task for us: to write new chapters in that story."
This is the second time a Scottish political conference has heard the story of a party leader's connection to Scotland.
Prime Minister David Cameron told the Scottish Tory conference last week about his great, great uncle, Captain John Geddes, who served in the 16th Battalion Canadian Scottish, and died in battle.