Scottish independence: UK Chamber of Shipping asks for more post-Yes detail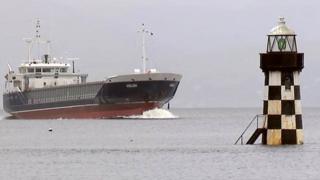 The Scottish government needs to detail its plan to support the maritime industry in a post-Yes Scotland, the UK Chamber of Shipping has said.
Ken MacLeod, the president of the chamber, said companies wanted certainty on safety, training, funding, and taxation.
The Scottish government said the sector would be consulted in post-independence negotiations.
About 41,000 people are directly employed in shipping in Scotland.
The UK Chamber of Shipping is the trade body that represents maritime workers.
Voters in Scotland go to the polls on Thursday, 18 September, when they will be asked the "Yes/No" question: "Should Scotland be an independent country?"
Mr MacLeod, who is the outgoing president of the chamber, has used his last week in office to send a strong message to the SNP.
He says companies need certainty on safety, training, funding, and taxation otherwise they "may have to reconsider what they are doing and some of these jobs may well be under threat, so we really need details on how this is going to operate".
Firstly, like a lot of sectors, the UK Chamber of Shipping say investment is made over the long-term, and they want reassurances that the tax regime will remain the same in an independent Scotland.
It costs a huge amount of money for a company to buy a new boat in an industry that by it's very nature is extremely mobile.
So, if it's to be built in or registered in Scotland, then companies are looking for reassurance that a new Scottish government wouldn't suddenly alter the level of taxes they are paying.
Secondly, the chamber say the government needs to think through how the safety industries would be funded in an independent Scotland.
At the moment Lighthouses and Navigation for Scotland are run by an organisation called the Northern Lighthouse Board, and it costs them £23m a year to maintain those lighthouses and put smaller lights and navigational buoys all round the Scottish coast.
That cost is funded by a light duty paid by every ship going into a UK port, and then divided between England and Wales and Scotland.
The trouble is that only £6m was taken in via Scottish ports, which would leave a £17m hole after independence. Essentially Scotland has a huge and dangerous coastline, but relatively few ships calling at its ports.
Mr MacLeod says that the Scottish government has not explained how it would plug that gap. He asked: "Are ships calling at a Scottish port going to have to pay four times the dues that they pay at the moment?"
Initially the Scottish government's White Paper suggested that current funding arrangements would continue.
But the UK Chamber of Shipping now say it's pleased the government is responding to its more specific questions, and observations that perhaps the rest of the UK wouldn't be so keen to continue funding the Scottish bodies.
The government now says that in terms of taxes, the "industry would be consulted on any proposed changes to the inherited regime".
And in terms of the safety bodies it says it "recognises that Scotland would have to pay its own way for a proportionate share of these services".
It adds: "The provision of Aids to Navigation around our coast funded by light dues from shipping would form part of the detailed formal negotiation process following a positive vote in September."