Scottish independence: Challenge made over deficits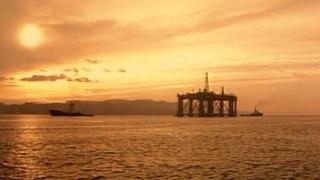 The Scottish government has been challenged to update its forecast of the deficits Scotland would run if it becomes independent.
The Centre for Public Policy for Regions said deficits remained high as a result of falling oil revenues.
Even when the UK Treasury intends to be running a budget surplus, in 2018-19, the figures suggest Scotland would have a £5bn deficit.
The Scottish government said it expects revenue to start rising again.
It disputes the oil tax projections coming from Whitehall and said it believed revenues would increase as a result of current high levels of investment.
The latest CPPR assessment of Scotland's budget position follows last week's Budget statement, accompanied by the OBR's latest forecasts.
Spending projections
It projects a further decline in tax revenue, totalling nearly £3bn over five years, as a result of lower production and reduced profitability.
The Chancellor, George Osborne, used that figure to warn against an independent Scotland relying on oil and gas tax revenue.
Revenue from offshore oil and gas is an important part of the financial case for independence. Without it, at current spending and onshore taxation levels, an independent Scotland would be running very large deficits.
The CPPR analysis has included spending projections, as well as revenue from oil and other sources, and estimates the deficit in Scotland would be about £13bn this year and next.
On OBR projections, including the Treasury's cuts to public service spending, that would fall to about £9.5bn in 2016-17, the year the Scottish government anticipates being the first year of independence.
That equates to a deficit of more than £1,000 per head in Scotland, according to the CPPR. At above 5% of national output, it would be more than double the scale of the UK deficit, which is forecast to fall to 2.4%.
While the OBR suggests the UK finances could be running a small surplus by 2018-19, the CPPR analysis shows Scotland with a deficit of £5bn that year, or roughly 3% of output.
Boost to production
The figures are similar whether they use the estimates for Scotland's share of production from HM Revenue and Customs or those from Professor Alex Kemp's team at Aberdeen University.
But more optimistic estimates of production were used by the Scottish government when it set out its forecasts a year ago. Since then, the out-turn for last year, and the year which ends next month, have come in lower than expected.
The last financial year saw revenue fall to £5bn, while the Scottish government estimate was of £6.7bn to £7.2bn.
The current financial year is on course to fall below £5bn, with 10 months already clear, the Scottish government range was from £6.2bn to £8.3bn.
Professor John McLaren, of CPPR, called on the Scottish government to update last year's figures. The economic institute has also called on the UK government to clarify the effect on tax revenue from volatility of the oil price, production costs and output.
The OBR oil tax projections are disputed by the Scottish government. It expects revenue to rise, saying the OBR is ignoring the impact on future production from currently high levels of investment.
A Scottish government spokesman said: "Oil and Gas UK's central forecast is for production to rise from around 1.4m barrels a day in 2013 to 1.7m by 2017.
"In contrast the OBR assumes that current record levels of investment provide no boost to production, despite the UK government-commissioned Wood Review [authored by Sir Ian Wood] highlighting the potential for production to increase in the coming years."
'Completely skewed'
Commenting on the CPPR analysis, Ruth Davidson, leader of the Scottish Conservatives backed the call for the SNP to update its figures - as she did at First Minister's Questions at Holyrood.
"The first minister's dodgy, year-old oil forecasts are now both out of date and completely skewed to suit his own purposes," she said.
"We know why the first minister won't update these figures. It's because he knows it will expose his back-of-a-fag-packet calculations."
The CPPR projections for an independent Scotland assume similar expenditure and onshore taxation patterns to those in the OBR figures.
They do not take account either of changing patterns after independence, or of the possibility of an altered funding formula for Holyrood if Scotland remains with the UK.