Scottish independence: Johann Lamont appeals to unions not to split over referendum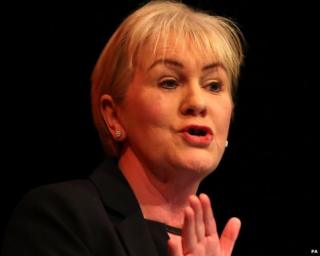 Scottish Labour leader Johann Lamont has urged trade unions not to split along referendum lines and risk losing sight of common aims.
Addressing the Scottish TUC in Dundee, Ms Lamont said she respected both sides of the referendum debate.
But differences should not distract from a "common purpose of creating a more just Scotland", she said.
She added that splitting the trade union movement had been Margaret Thatcher's aim in the 1980s.
'Common purpose'
She said: "I recognise there are those in the trade union movement who are attracted to the idea of stopping the Tories at the border.
"I understand it and I respect it.
"I know there are many others who believe that working in co-operation and partnership with our neighbours, building a fairer society, that the trade union has progressive voices from Liverpool, Newcastle, Manchester, Cardiff, Belfast, Portsmouth, right across the United Kingdom.
"I respect both points of view but we cannot allow this position on the referendum to divide our movement or distract from our common purpose of creating a more just Scotland."
She added: "I get angry about the notion that we can have a fairer, more progressive Scotland simply by changing the constitution."
Ms Lamont's speech came one day after First Minister Alex Salmond addressed the same conference.
'Fairer Scotland'
The Scottish Labour leader accused Mr Salmond of working in the interests of bosses such as Jim Ratcliffe, chairman of Grangemouth refinery owner Ineos, and airline chief Willie Walsh, rather than workers.
"After all it was a Holyrood government which handed £1.2m of our money to a debt collection agency to expand its operations, and that's not my idea of a fairer Scotland," she said.
"It was a Holyrood government which has pledged to cut taxes for big business and millionaires while stripping £1bn out of anti-poverty projects. That's not my idea of a fairer Scotland.
"That might be Jim Ratcliffe or Willie Walsh's idea of a better Scotland, based on low wages and tax cuts, but it is not my idea of a fairer Scotland."
Ms Lamont said she wanted to establish a workers' charter and was willing to work with the SNP Scottish government to achieve it.
'Fourth most unequal'
Responding to the speech, STUC general secretary Grahame Smith said: "Overall Johann Lamont gave a strong and confident performance, showing that she has a close understanding of the priorities of Scottish trade unions.
"Particularly welcome was her announcement of a workers' charter and pledge to continue to press for improvements in the Procurement Reform Bill to strengthen provisions on blacklisting and zero hours contracts and to deliver a living wage.
"However, it was notable that her answers to referendum questions on reserved Westminster policy such as Trident, employment rights public spending cuts and Labour's support for the coalition's benefit cap, appeared insufficient to convinced our delegates that the current policies of the UK Labour Party will be sufficient to achieve our social justice ambitions for Scotland should there be a No vote in the referendum."
SNP MSP Christina McKelvie said: "As much as Johann Lamont tries to deny it the simple truth is that successive Westminster governments have failed to tackle inequality.
"The UK is now the fourth most unequal country in the developed world - and under Labour the gap between rich and poor only grew wider.
"Reports today that UK government welfare reforms have resulted in a 400% increase in food bank use are a stark reminder that Westminster does not deserve another chance - to really tackle inequality and build a fairer Scotland we need the full powers of an independent Scotland."