Life of Margo MacDonald celebrated at Edinburgh Assembly Hall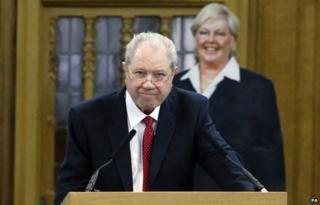 More than 1,000 people have gathered to celebrate the life of veteran politician Margo MacDonald, following her death at the age of 70.
Her widower Jim Sillars told Edinburgh's Assembly Hall: "She was dusted with magic".
Actress Elaine C Smith and Scottish Health Secretary Alex Neil also paid tribute at the event, which included a live performance by The Proclaimers.
Ms MacDonald had been suffering from Parkinson's disease.
She was a hugely influential in the Scottish independence movement, rising to prominence after winning the Glasgow Govan Westminster by-election for the SNP in 1973.
She was elected to the Scottish Parliament in 1999, serving as an SNP MSP for the Lothian region, before going on to represent the area as an independent member after falling out of favour with the party.
She had been campaigning to legalise assisted suicide for the terminally ill.
Mr Sillars, who was an MP during the 1970s and 1980s, described his wife as a star which "burst forth into Scottish life in all its splendour" when she won Govan.
"Thereafter, she captivated friends, opponents and the people of Scotland through her intellectual power, radiance, beauty, warmth, humour, humanity and colossal talent for 41 years," he said.
"Charismatic is an inadequate word for Margo - she was dusted with magic."
Ahead of the 18 September independence referendum, Mr Sillars said Ms MacDonald had expressed concern over Scotland as a divided nation and what she saw as a "palpable air of bitter antagonism" generated in some debates.
He said: "The Margo MacDonald way is to recognise that you are dealing with opponents, not enemies. Not with ogres, but with fellow human beings with whom you can disagree, but must do so without malice.
"And where the exercise of mutual respect is a civilised corrective to uncivilised abuse - an abuse which, if unchecked by both sides, can so easily mutate into an irreversible, corrosive, malign influence in the conduct of public life in Scotland."
Mr Sillars said: "Margo's life work was a passionate pursuit of Scottish independence.
"If Margo could debate without conceding one iota of principle, but do so without venom, so can we all. If she could respect the right of the other side to their opinions, so can we all.
"That's what she wanted me to say."
Ms MacDonald's family said the memorial was "not to be an occasion for mourning", and attendees wore bright clothes.
The event, led by humanist celebrant Bob Scott, also featured a selection of Ms MacDonald's favourite country songs.
The Proclaimers performed their hit song Sunshine on Leith at the event - Craig Reid, one of the twins in the band, is married to Ms MacDonald's daughter.
The song is also hugely popular at Hibernian Football Club, where Ms MacDonald was a "fanatic" fan, according to Mr Sillars.
During a humorous and emotional tribute, Ms Smith called Ms MacDonald's by-election win in 1973 a "pivotal moment in history in Scotland" and recounted how Ms MacDonald had made a huge impact on the voters of Govan.
She ended by saying: "How do you sum Margo up? Actually you can't.
"But if Margo MacDonald Sillars, daughter, wife, mother, mother-in-law, auntie, sister, grandmother, pal, politician and all-round superstar on this planet was to come here to love and be beloved in return, then she did her job, and she did it bloody well."
Mr Neil, a longtime friend of Ms MacDonald, told the gathering: "She could debate with them at the highest level and easily win the argument.
"But she never lost her practical, working-class approach to life. That wasn't a fit-on for the masses - Margo was always just Margo, the same person in private as she was in public.
"She was always totally honest - sometimes to her own cost - she said it as she saw it."
Mr Neil added: "For the last 41 years, Margo MacDonald has been the flower of Scotland.
"More importantly for me, she has been my loyal and true friend. I will miss her terribly, so will Scotland, because Margo, you simply were the best."
Sheena Wellington's moving, unaccompanied rendition of Robert Burns' A Man's a Man for a' That played as family, friends, politicians and colleagues of Ms MacDonald left the hall.
Mr Scott said he hoped the event, which was delivered with humour and passion, would be a fitting tribute Ms MacDonald.
Politicians from across the political spectrum attended, many wearing brightly coloured jackets, blouses and ties.
First Minister Alex Salmond sat in the front row of the hall alongside Scottish Labour leader Johann Lamont, leader of the Scottish Conservatives Ruth Davidson and the Scottish Liberal Democrats' leader Willie Rennie.
Also in attendance were Alistair Darling, leader of the pro-Union Better Together campaign, former Scottish Labour leader Wendy Alexander, Lord McConnell, the former Labour first minister, and Lord Steel, the veteran Liberal Democrat and former presiding officer of the Scottish Parliament.