Summit to tackle 'legal high' use in Scotland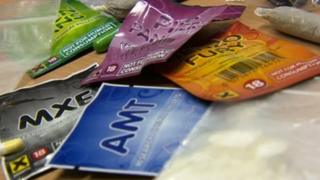 A summit to discuss how best to tackle so-called "legal highs" is being hosted by the Scottish government.
Police, Trading Standards officers and Home Office officials will talk about how to control the sale and supply of new psychoactive substances (NPS).
Discussions at the event will help form Scottish ministers' response to the Home Office review of NPS legislation.
Hundreds of people have been admitted to hospital across Scotland in the past five years after taking the chemicals.
Figures obtained earlier this year showed there had been 323 hospital admissions since 2009, with cases doubling over the last two years.
However, only six health boards could supply numbers, so there was concern the real total could be much higher.
'Guinea pigs'
Justice Secretary Kenny MacAskill , who was due to attend the summit in Glasgow, said: "As we come into the busy summer festival season, It's vitally important that we do all we can to stress that, when it comes to these drugs, 'legal' does not equal safe.
"The longer-term health implications of taking these so called 'legal highs' are completely unknown. Put simply, users are acting as guinea pigs for untested and unregulated substances.
"There is no doubt that the key to addressing the challenges associated with new drugs in Scotland is co-operation between all the organisations and individuals who have a role to play in responding to the problem, from those tackling the supply of these drugs to those who are working to educate people about their dangers."
He added: "The issue of 'legal highs' is not specific to Scotland, and much could be learned by looking at other countries who are tackling the issue in innovative ways.
"Although classification of drugs is reserved to the UK government, we already work with the Home Office and police in Scotland to identify and tackle the supply of new psychoactive substances that threaten public health."
"This event will be an important step in continuing the significant work of the Scottish government and partners in establishing the challenges that Scotland faces in relation to the supply and use of the so called 'legal highs' and exploring potential actions for addressing them."