Scottish greens urge action over pay inequality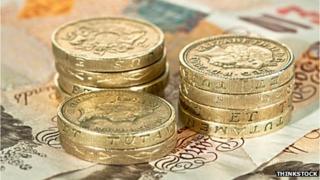 The Scottish Greens are calling for action to tackle what they claim is a growing inequality in workers' salaries.
Research by the party suggested 43 bosses of public bodies earned six-figure salaries, although the median salary in Scotland was £26,000.
It found the chief executive of Scottish Water earned £350,000 to £400,000 in 2011-12.
That was 27 times the salary of a water treatment operator.
NHS Lothian's chief executive earned £190,000-£195,000 - 13 times the salary of a nursing assistant.
Holyrood will debate a motion from Scottish Green MSPs on Wednesday calling for action on what they argue is a growing inequality in workers' pay packets.
Income gap
The party's finance spokesman, Patrick Harvie, said: "If we want a fair and successful society we must close the gap between the highest and lowest incomes.
"Successive governments have allowed our economy to become hollowed out by big business, and have allowed senior salaries to soar ahead while pay for frontline workers is squeezed.
"The recent attempt by RBS to pay bonuses worth 200% of salaries demonstrates the need to shake things up.
"The Scottish government should investigate ideas such as maximum wage ratios which would limit the difference between the lowest and highest paid in an organisation.
"We must encourage big employers in the private sector to lift the wages of the lowest paid. Scottish ministers could lead by example and start by publishing the pay ratios of the public bodies they control."
Other chief executives on high salaries included the boss of Scottish Enterprise, Lena Wilson, who earned £200,000-£205,000 in 2011-12, and Barry White, head of the Scottish Futures Trust, who was on £185,000 during that period, according to figures on the Scottish government website.
Ministerial salaries
In December, Reform Scotland claimed more than half the bosses of non-governmental public bodies in Scotland were paid higher salaries than Scottish ministers.
The independent non-party think-tank highlighted the difference in pay as part of a call to curb earnings and make the system more "transparent".
A Scottish Government spokesman said: "The Scottish government takes the issue of low pay very seriously and we are committed to doing all we can to ensure as many people as possible in the public sector benefit from our living wage policy.
"We are going well beyond any measures the UK Government is putting in place for the lower paid. Our Public Sector Pay Policy ensures a minimum pay uplift of £300 per annum for those earning less than £21,000. We have also suspended bonuses for senior executives in the public sector - a policy which has not been implemented by Westminster.
"We encourage all companies to pay their employees the living wage and senior executives should be mindful of the current economic climate when considering pay policy."