Scottish independence: Sturgeon resists calls to set out start-up costs detail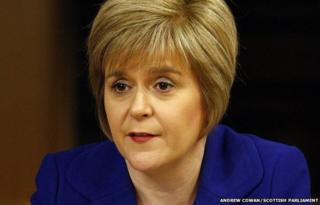 The deputy first minister has resisted calls to set out the start-up costs of Scottish independence.
Nicola Sturgeon said there were dangers in putting a figure on matters that would be subject to negotiation.
She told MSPs she wanted to avoid releasing disputed figures, accusing the UK Treasury of "picking a figure out of thin air" on costs.
UK Treasury minister Danny Alexander said the "onus" was on Scottish ministers to set out more details.
Ms Sturgeon made the comments before the Scottish Parliament's Economy, Energy and Tourism Committee amid a continuing row over the likely costs of setting up new public bodies in an independent Scotland.
In May the UK government published analysis which put the cost at £1.5bn, prompting Scotland's Finance Secretary, John Swinney, to accuse the Treasury of releasing "false information".
The Treasury said the cost could be twice as much, if based on a different study by Prof Patrick Dunleavy of the London School of Economics.
Prof Dunleavy later accused UK ministers of a "ludicrous" use of his research.
The academic later estimated the Scottish cost could be between £150m and £200m, a suggestion that First Minister Alex Salmond said was reasonable.
Scotland's main opposition parties have jointly called on the Scottish government to produce its own figures.
Ms Sturgeon told the committee: "We don't want to be in the same territory as the UK government of mis-briefing anybody."
Pressed by Labour MSP Richard Baker on start-up costs, she argued that many of the institutions required already existed, giving the example of Scottish pensions, which were administered from two pension centres in Scotland.
"That infrastructure exists - we are not in the position of having to set that up from scratch," she said.
Mr Baker asked: "You've been working on this for two years and you have no figure?"
ANALYSIS - Colletta Smith, Economics Correspondent, BBC Scotland
"Holyrood's economy committee have started and ended their four-month investigation by hearing evidence from Scottish government and UK government ministers, and little agreement has been reached over that period.
"Today ministers have each been ridiculing the basis of each other's figures.
"Chief Secretary to the Treasury Danny Alexander said the Scottish government's oil forecasts were optimistic sums done "on the back of a fag packet", and deputy first minister Nicola Sturgeon claimed that the Treasury estimates for Scotland's start-up costs were plucked "out of thin air".
"So is anyone any clearer about what Scotland's economy could look like?
"Figures are often based on different base statistics which aren't comparable, any forecasting is almost an impossible art, and both sides have been wrong in the past.
"With each side using statistics to prove their own agenda, voters will have to choose which outlook they agree with."
Ms Sturgeon claimed that the row over the Treasury figures was "a good example of the dangers that befall you when you try to put a definitive cost" on something that would be subject to negotiation.
Also appearing before the committee were Mr Swinney and the Scottish government's chief economist, Gary Gillespie.
Mr Swinney said the Scottish government's White Paper on independence set out some estimates of start-up costs, such as the cost of setting up overseas embassies.
The White Paper says: "The government estimates the running costs of our initial proposed network of 70 to 90 overseas offices at £90m to £120m."
Conservative MSP and committee convener Murdo Fraser asked Mr Gillespie: "Have you done costings on details that do not appear in the White Paper?"
The economist replied: "No."
Earlier, Mr Alexander said it was "extraordinary" that the Scottish government would not set out the costs of a new state ahead of September's referendum.
The chief secretary to the Treasury referred to an interview Mr Swinney gave to the BBC'S Good Morning Scotland programme in May, in which he did not set out costs when questioned repeatedly.
"Given Mr Swinney was asked 13 times what the cost was and didn't answer, I think that the onus is on them," Mr Alexander said.
Mr Alexander also attacked the Scottish government's forecasts of improved economic productivity if Scotland were to become independent.
"In any set of circumstances where you're putting forward costings, you're trying to make a reasoned economic case, it is preferable to be cautious, then if you are surprised on the upside that is welcome," he said.
"Coming up with the most optimistic set of numbers you can possibly imagine off the back of a fag packet and then saying that's your central assumption for economic projections seems to me to be rather misleading."