Scottish independence: Who is Campbell Gunn?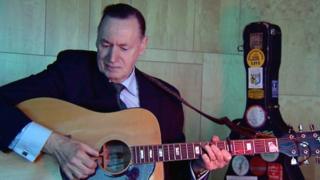 As a folk musician and political journalist-turned government adviser, Campbell Gunn has long been a prominent and popular figure around the Scottish Parliament's media offices.
He began his journalistic career at the Dundee-based Sunday Post in 1969 after completing a degree at Aberdeen University, rising to become chief reporter at its Edinburgh office.
In 1995, he covered the war in Bosnia, and travelled to Kosovo four years later with an aid convoy from Scotland.
As the Post's political editor, Mr Gunn led the paper's coverage from the Scottish Parliament since its inception in 1999, building a public profile with regular appearances as a commentator on radio and television.
The keen hillwalker and songwriter, who has links with Scots folk band Runrig, announced his retirement in March 2013, after 43 years with the newspaper.
He received a lifetime award at the Scottish Press Awards, and politicians from across the divide lined up to pay tribute to the veteran journalist.
At the time, his soon-to-be-boss Alex Salmond said Mr Gunn would be "genuinely missed" by readers of the Sunday Post.
Scottish Labour leader Johann Lamont said it would be "difficult to imagine the Scottish Parliament without him" and praised his "professionalism" and "good nature".
Meanwhile, Ruth Davidson, leader of the Scottish Conservatives, called him a "scrupulously fair journalist who gives everyone - irrespective of party - a fair crack at the whip".
This week, both women called for Mr Gunn to be sacked.
His favouring of Scottish independence was well known at Holyrood, so his appointment as a special adviser to the Scottish government did not come as a shock.
The first rule of being a spin doctor is - never become the story.
While is it pretty clear Mr Gunn broke that rule, with Mr Salmond's backing, it looks like he will live to see another day at Holyrood.