Scottish independence: 1997 devolution campaigner says 'weak' vote is key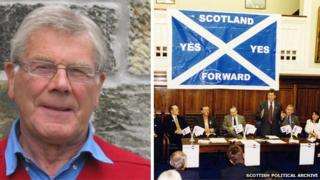 A campaign boss from the 1997 devolution referendum believes up to 30% of those eligible to vote in September are open to switching sides.
Businessman Nigel Smith chaired the successful cross-party "Yes/Yes" group.
He told the BBC that the two campaigns needed to "energise" support because this "battle" was about winning over "weak voters, weak yes, weak no".
Both sides were positive about the comments, reminding voters of the key reasons behind choosing "Yes" or "No".
Scotland FORward - the campaign group Mr Smith headed - won 74.3% of the vote in the 1997 referendum to create the Scottish Parliament.
He said there was still much to play for ahead of the historic vote on 18 September.
Mr Smith explained: "This battle is about the weak voters, weak yes, weak no - maybe having second thoughts, and that group is maybe 30%.
"For them, some may never make up their minds and they'll probably react by not voting.
"But others will come down on one side, and for them it can't be a boredom factor, because they know how important this is. Everybody knows that. And that is the great merit of a referendum. It energises people.
"What their criticism of British politics is at the moment is 'it doesn't make any difference, what I think'. Here it makes a difference. And that is a very crucial democratic aspect of the referendum."
---
Nigel Smith on.....
Overall strategies: "What we had to do was reassure the voters, and get them to come out on the day. This is very different. So, ours was reassurance, here it's winning some part of these arguments among some part of the electorate."
Campaign intensity: "The intensity of the campaign is non-stop. I mean it will be now, but come the last four or five weeks it will be unbelievable. Really unbelievable. And I think for that reason exhaustion for the two sides will be an issue. In that they've been doing this for two years, or they will have been by then."
Social media: "That didn't exist [in 1997] and what we've created is a space where public opinion can swarm."
---
On the 1997 campaign, Mr Smith called it "a referendum that had been decided before it started".
He said: "We'd won at the outset. That's not the case here, the status quo is still alive here, the referendum is still open, and in that sense there is a real decision to be made by the voters.
"I think the biggest problem for the 'Yes' side is people having second thoughts. And I think the biggest problem for the 'No' side is not being able to engender sufficient excitement for their No voters to come out and vote."
Mr Smith, 73, runs Voxscot, a website focusing on the practicalities of referendums, and he also travels the world offering his view on the subject.
He believes the "Yes" campaign is behind in the polls because "all they can state is their negotiating position".
Mr Smith explained: "They cannot give an answer on the pound, Nato, all of these issues. It's not to say that the public won't accept it, but it's a lot harder than saying 'this will happen, this will happen and this will happen'."
He added that Better Together would be "morally irresponsible" if it did not point out the negatives.
Mr Smith said: "It's felt a bit more positive just lately, but the basic thing of a no change campaign is that they have to own up to the risks. That's their bread and butter.
"And people take that as negative, but actually you'd be very unhappy if you had no pension and you suddenly discovered it and nobody had told you."
Mr Smith also told the BBC:
He predicted turnout would be between 74% to 78%.
The degree of co-operation between parties was not as good as it was in 1997.
And that people would make their minds up based on the arguments - not the people involved.
---
Did you know?
During the 1997 devolution campaign, "Referendum ice cream" was created by the East Ayrshire group of Scotland FORward.
---
The head of the Yes Scotland campaign, Blair Jenkins, said it was important to highlight that Scotland had a choice between two futures.
He explained: "We can either continue with the uncertainty of Westminster with continued cuts to our public services; or we can protect the gains of devolution - such as no prescription charges and free personal care for the elderly - and chart a different political and economic course from Westminster.
"A 'Yes' vote puts Scotland's future in Scotland's hands and ensures that we always get the governments we vote for.
"A 'No' vote threatens more cuts to Scotland's budget, risks us being pulled out of the European Union against our will, and means another generation of Trident nuclear weapons on the Clyde."
A spokesman for the pro-Union Better Together campaign said Mr Smith was right to point out that it had a responsibility to highlight the "huge risks of separation".
He added: "We also have a very positive case to make, which is that by pooling and sharing our resources across the whole of the UK we can improve the lives of Scottish families.
"This is the most important decision we will ever take in the history of our country. Everybody who believes we are stronger and better together as part of the UK needs to do their bit.
"As part of the UK we can have the best of both worlds for Scotland. We can have a strong Scottish Parliament, with the guarantee of more powers for Scotland, backed up by the strength, security and stability of being part of the larger UK."