Scottish independence: Group of former university chiefs back Scotland in UK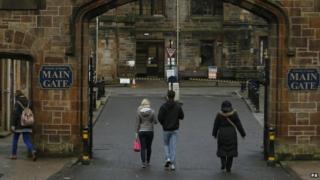 Nine former principals of Scottish universities have signed a joint statement backing Scotland remaining in the UK.
The senior academics argued that independence would put research funding from UK-wide bodies at risk.
They also claimed that an independent Scotland would not be able to levy tuition fees on UK students.
Pro-independence group Academics for Yes said independence would protect Scotland's universities.
The authors of the statement included Sir Graeme Davies, former principal of Glasgow University; Brian Lang, former principal of St Andrews; and Stewart Sutherland, Lord Sutherland of Houndwood, former principal of Edinburgh University.
They wrote: "Having examined the evidence we feel there are two fundamental risks that would arise solely from leaving the UK.
"The first is to research funding available to Scottish universities from UK-wide bodies like UK charities and UK research councils.
"As part of the UK our funding will reach as high as our excellence allows, not as far as the budget stretches.
"If we leave the UK then we put this hard won additional funding at risk."
Tuition fees
The nine academics said the second risk concerned tuition fees.
Students from Scotland are entitled to free tuition at Scottish universities but students from the rest of the UK are charged fees of up to £9,000 a year.
The Scottish government has argued that that Scottish universities could be overwhelmed by students from the rest of the UK if the policy changed, and its White Paper on independence proposed continuing with the current arrangements.
EU member states are not supposed to charge higher fees to students from other member states than domestic students, and the pro-Union Better Together campaign have claimed students from the rest of the UK would have to be offered free tuition under European law.
"Having analysed the evidence we can see no circumstances in which a separate Scotland could charge tuition fees to students from the rest of the UK," the former principals wrote.
"But we don't have to face this problem; it can be avoided by voting to stay in the UK."
Professor Bryan MacGregor, speaking on behalf of the pro-independence group Academics for Yes, said: "The Scottish government is committed to proper funding of research and other benefactors will support quality research wherever it takes place."
He added: "On the one hand, we have the UK and England contexts of cuts in research and science funding, high student fees with unsustainable loan funding, an immigration policy that is preventing and deterring international student recruitment and the possibility of an exit from the EU and its research funding.
"And, on the other, we have a Scottish Government committed to funding research, to free access to universities for residents and to attracting international students.
"Independence will protect Scotland's universities and allow appropriate research priorities to be determined."