Alex Salmond meets Ukrainian community after Putin row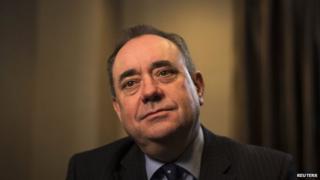 The first minister has met members of the Ukrainian community in Scotland after a row over his qualified praise for Russian president Vladimir Putin.
Alex Salmond described the private talks as "warm and constructive".
Mr Salmond has faced criticism over a magazine interview in which he said he admired the way Mr Putin had restored Russian pride.
The talks with members of the Ukrainian community and Ukrainian consul Mykhaylo Osnach were held in Edinburgh.
The controversy was ignited by an interview Mr Salmond gave to GQ magazine shortly before Russia's annexation of Crimea.
While stressing there were a range of Russian actions he did not approve of, he said he admired "certain aspects" of Mr Putin's rule, particularly his restoration of Russian pride.
Mr Salmond later insisted his words were taken out of context and condemned Russian actions in Ukraine.
Worried relatives
After last night's meeting, he said: "Tonight's meeting with members of the Ukrainian community in Scotland was both warm and constructive.
"I reiterated the Scottish government's position of support and solidarity with the people of Ukraine, as well as expressing my sympathy to those Ukrainians in Scotland who are worried about friends and family at home.
"Recently, I wrote to the new president of Ukraine, Petro Poroshenko, to congratulate him on his election victory.
"In that letter and again to those at the meeting tonight, I also expressed that I look forward to a time when tensions in Ukraine are significantly eased and Russia actively pursues a policy of de-escalation."
Mr Salmond added that the Scottish government "deplored" any efforts to divide Ukraine and urged the Russian Federation to refrain from military action.
A statement from the Association of Ukrainians in GB's Edinburgh branch said the first minister had "expressed disappointment if the reported words may have caused any distress to the Ukrainian community as they did not accord with the official transcription".
It added: "The first minister gave a commitment to press the UK government to elaborate on the recently proposed additional sanctions against Russia.
"The Ukrainian community had expressed their concerns over the increasing violence and the lack of accurate and impartial reporting.
"Mr Salmond advised that he would raise this matter with the media concerning the ongoing conflict with Russian-backed rebels in eastern Ukraine.
"Mr Salmond also committed to a future visit to the Ukrainian community centre in Edinburgh as part of the future development of cultural links between the Scottish Ukrainian community and the Scottish government."