Scotland's referendum: Land reform and the independence debate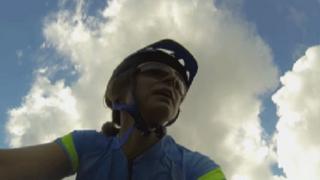 The BBC's referendum correspondent Laura Bicker got on her bike as part of a quest to find out what voters in Scotland are saying about the independence debate. Here, as part of her triathlon trip of Scotland she goes in search of who owns the country.

Who actually owns the land we'll be voting over on 18 September?
I cycled around Harris to find out and to look at what for many lies at the heart of this independence debate.
And I discovered a little about what happens when you give power back to the people.
Over half of all the privately owned land in Scotland is in the hands of less than 0.02% of the population.
But some are working to change that.
The land in the north of Harris is owned and managed by the local community.
It was bought from the estate owner 12 years ago.
David Cameron (yes that is his name!) from Community Land Scotland was one of the trustees. He now helps others through the buyout process.
He says: "There's something magic happens. I don't know what it is.
"When a community takes over the land it somehow reinvigorates them. They change from a can't do society to a we can do - or at least we will try to do. It releases an energy that is not apparent. Perhaps its something to do with confidence."
The Scottish government is committed to land reform and has begun a mapping process to find out who owns what.
In North Harris, you can see the benefits. It's almost like a mini development agency.
In one small corner of land alone - I find new housing, plans for a hydro electric station and wind turbines - all to generate money to put back into the community.
Buyout decision
Further south I travel through the bay of Harris, where they are watching their neighbours closely.
The land is owned by a private landlord who lives elsewhere and local folk are holding a vote on whether to find funds for a buyout.
Resident John Maher is on the steering group and he believes it could make all the difference.
He says: "It's right that the people who live here have a say in what happens here as opposed to somebody sitting down south.
"I'm not doing this to have a dig at the landlord - by accident of birth that might have been me sitting at a dinner party talking about this patch of the Outer Hebrides that I own."
I ask him if the community will manage to work together.
He tells me: "That's the interesting thing.
"There are people who are dead set against the buyout - the phrase you often hear is if it ain't broke why fix it - my reply is it's been broken for generations."
Working together?
Community ownership can be a bumpy ride. Not everyone will agree on how things should be done.
In North Harris for instance there has already been a disagreement over a new supermarket.
So, would it be better to find a way to work together?
I find representatives from Scottish Land and Estates taking a tour of Harris and looking at examples of land reform.
Sarah-Jane Laing tells me that some areas have found ways to work with the estate owner.
She explains: "We're not far from North Uist and the community there seems to have said they are happy how their land is managed.
"But they're being made to feel like a failure because they're not pursuing the community ownership route.
"What you have to do with land reform is look at the objective - what is the best for the local community that could include private owners and businesses, it might not be ownership."
There is a cross party consensus in Scotland for land reform.
But what I've found is a push for self-determination.
The argument I have heard for and against land reform echo many of those in the independence debate.
So, could Harris be the story of this referendum? Competing visions of land ownership and the struggle to find a way forward.
Changing the constitution is far more complicated than managing a piece of land.
Could a country with so many divided opinions come together if things went wrong?
Or would we accept the consequences of our decisions?
Scotland that is up to you.