Scottish independence: STV referendum debate date under review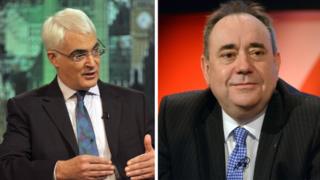 A proposed date for a TV debate between Alex Salmond and Alistair Darling is now under review, according to STV.
The two sides have failed to agree on an initial 16 July proposal, and have now been offered 5 August.
Mr Salmond has accepted the revised August date, but will continue to push for a TV head-to-head with Prime Minister David Cameron.
A spokesperson for Better Together criticised Mr Salmond and STV for not sticking to the July proposal.
STV said it was "firmly committed" to staging a live TV debate between Mr Salmond and Mr Darling of the pro-Union Better Together campaign.
A spokesman added: "It has not been possible to secure the date we initially proposed and STV has now offered the First Minister and Alistair Darling a revised date of 5th August."
Mr Salmond has accepted the revised proposal, but also stated that he wanted to debate Mr Cameron, rather than Mr Darling, on 16 July.
He tweeted: "Even if David Cameron ducks out of 16 July the #IndyRef debate is on - just accepted STV proposal for debate with Alistair Darling on 5 Aug."
A spokesman for Mr Salmond later said: "Mr Darling is on record as saying he would debate with the First Minister 'anytime, anywhere' - it now seems that was bluff and bluster and it is 'anytime' except the one suggested."
He added that STV had proposed a "serious and substantial two-hour debate" involving a 500-strong audience of "ordinary people representing public opinion across Scotland".
However, Better Together has criticised Mr Salmond and STV for "repudiating" on the initial July proposal.
A Better Together spokesman said: "We had agreed to STV's offer of a debate on 16 July.
"We are disappointed that STV have now repudiated their own date after Alex Salmond refused to take part, despite the first minister indicating publicly that he was free that day.
He added: "The public want to see this debate, we want this debate to happen, and if STV are willing to enter into serious discussions with both, rather than just one of the campaigns, we are of course willing to talk."