Scottish independence: Teenagers stage Thought for the Day 'takeover'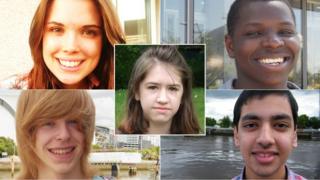 Good Morning Scotland's Thought for the Day is being presented by 16 and 17-year-olds every day this week.
It is the first time in its 40-year history that the religious slot has been given over to young people.
The "takeover" is part of BBC Scotland's wider youth engagement project Generation 2014.
Five members of the group of 50 were asked to present their "thought" because they had expressed strong religious or spiritual convictions.
Iona Torbet, 16, from Orkney, can be heard on Monday, discussing her ambition to use her strong faith to help others.
She said: "I'm trying to look outside my own little world and into our bigger, shared one; asking how I can use my talents to reach out to others."
She is followed on Tuesday by Nathan Epemolu, also 16 and from Hamilton, recalling how prayer helped him get through his recent exams.
Later in the week, 16-year-old Jenna Gillespie, from Aberdeen, will discuss religion and violence, while Gregor Larmour from Kilmarnock, also 16, describes his own unconventional approach to having a faith.
On Friday, Momin Mehmood, a 17-year-old Muslim from Glasgow, discusses what can happen when religion is misused.
For more on Generation 2014, click here. Thought for the Day can be heard every weekday morning at 07:20 on BBC Radio Scotland.