Scottish independence: Law Society calls for answers in referendum campaign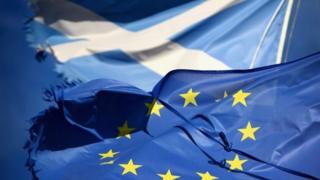 Important questions on Scotland's future remain unanswered ahead of the independence referendum, the Law Society of Scotland has said.
The professional body for solicitors called on pro-independence campaigners to provide more information on the economy, currency and EU membership.
And it pressed the main pro-UK parties to spell out when more powers would be devolved to Scotland.
The Society said it had a "firmly non-partisan role in the debate".
Law Society president Alistair Morris said: "It is essential that everyone is equipped with the right information so each person can make up their mind and collectively deliver a decisive result.
"Yet despite much debate, a major White Paper, devolution commission reports, analysis papers and a draft Independence Bill, many of us believe important questions on Scotland's future remain unanswered.
Joint declaration
"There continues to be uncertainty on fundamental issues including the currency we would use, EU membership, how our economy would succeed and what taxes we would pay.
"There are also questions over how further devolution can and would be delivered in the event of a 'No' vote."
In November 2013 the Scottish government published a White Paper setting out a blueprint for an independence Scotland.
It followed this with proposals for a draft constitution last month.
Meanwhile the Conservatives, Labour and the Liberal Democrats have set out individual proposals to devolve more powers to the Scottish Parliament if voters reject independence.
The parties made a joint declaration that more powers would be devolved but have not agreed a common position on what those powers would be.
In its own paper on Scotland's future, the Law Society argued that many questions remain to be answered by all sides in the debate, including:
What would independence mean for Scotland's membership of the EU and international organisations?
Would the UK government support an application by an independent Scotland to join the EU?
What contingencies does the Scottish government propose if negotiations are not concluded by their proposed independence day of 24 March 2016?
What timescale for further devolution would be proposed by the Conservative, Labour and Liberal Democrat parties?
To what extent are the Conservative, Labour and Liberal Democrat parties prepared to agree a joint programme for additional powers?
What contingency plans exist if the UK government does not agree to share the pound with an independent Scotland?
The Law Society also called for more information on how independence might affect Scotland's legal system and the legal profession.
The Scottish government has insisted that EU membership can be negotiated from within the UK before Scotland became independent 18 months after a "Yes" vote, while UK ministers have argued that membership would not be guaranteed and could take several years.
The finance spokesmen of the main UK parties have all said they would not share the pound in a currency union with an independent Scotland, while Scottish ministers insist their UK counterparts are bluffing.
Lib Dem MP and QC Sir Menzies Campbell, commenting on behalf of the pro-Union Better Together campaign, said: "Respected organisations, like the Law Society of Scotland, are seeing through the paper thin case for separation.
'Found wanting'
"On the facts and the big questions the nationalists have been found wanting - on currency, the EU, jobs and pensions.
"The only way to keep the pound and to continue to enjoy the benefits of being together is to say 'No Thanks' to separation in September."
Joanna Cherry QC, from pro-independence group Lawyers for Yes, said: "In the White Paper and the Scottish Independence Bill and consultation on an interim constitution for Scotland, the Scottish government have provided considerable detail on their proposals.
"This is in contrast to the UK government's refusal to engage in any meaningful contingency planning, its bullying tactics over the currency and its scare stories over a range of issues.
"In many areas, such as the currency and EU membership, we believe that the outcome of negotiations will be as much a matter of realpolitik as of law and is likely to favour the position taken by the Scottish government once there has been a 'Yes' vote."