Scottish independence supporters hold Holyrood rally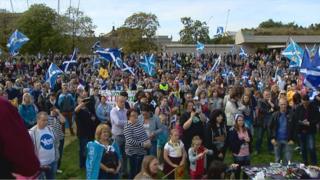 Thousands of supporters of Scottish independence have been taking part in a rally outside the Scottish parliament.
The rally, organised under the Voice Of The People banner, came just over a week after the independence referendum.
Kate Higgins of the Women For Independence group told the crowd "it's not over".
Meanwhile, Scottish Liberal Democrat leader Willie Rennie has warned nationalists not to seek an "ultra-extreme" form of devolution.
Speaking at the Holyrood event, SNP MSP Marco Biagi said: "True power has not been given back to Westminster, it has been lent to them and one day we will take it back."
Mr Rennie set out the big challenges for unionist and nationalist parties as they seek an agreement on more powers for the Scottish Parliament.
Speaking in Perth, he said: "An attempt from nationalists to redefine home rule and federalism in an ultra-extreme form is perhaps understandable but it is not something that will create a sustainable settlement that will stand the test of time.
"For unionists, especially Labour, the test will be whether they can adopt a more substantial package of powers that will give the parliament the financial responsibility and flexibility it needs to tackle inequality, create jobs and invest for the long term."
The Scottish Green party has said it is looking forward to working constructively with the Smith Commission on Devolution.
The party has nominated co-conveners Councillor Maggie Chapman and MSP Patrick Harvie to take part in discussions to bring more powers to Holyrood.
The commission, headed by Lord Smith of Kelvin, aims to have a draft new powers bill in place by the time of the next UK parliament.