New food standards body for Scotland debated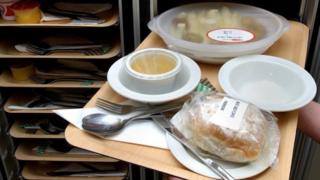 Legislation which would see a new food standards body established in Scotland is to be debated by MSPs.
The Scottish government wants to set up Food Standards Scotland (FSS) to replace the current Food Standards Agency in Scotland.
Provisions to create the body are contained in the Food (Scotland) Bill, which has already been backed by the parliament's health committee.
It will be debated at its first stage in the Holyrood chamber later.
The new body would have a wider scope, including greater powers to tackle diet and nutritional health in addition to regulating food safety.
Extra measures to ensure food safety were also included in the legislation in the wake of the horsemeat scandal.
The new body would be given specific powers to seize food that does not meet labelling rules.
'Enforcement powers'
Publishing the legislation in March, public health minister Michael Matheson said such measures would help reassure consumers.
He added: "The body will be given specific enforcement powers to seize food that does not meet food standards or labelling rules and it will also be compulsory to report non-compliance with food standards regulations, which cover food fraud."
Dave Watson, head of bargaining and campaigns at trade union Unison, which represents meat hygiene inspectors and environmental health officers, said that simply creating a Scottish body to regulate food safety was not enough.
He added: "They must legislate for higher standards to ensure the objectives set out in the Bill are achieved."
You can watch the debate live at BBC Scotland's Democracy Live.