Call for apology over Kenny MacAskill poll tax tweet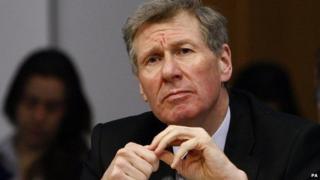 A Twitter post by Scottish Justice Secretary Kenny MacAskill about efforts to recoup poll tax from referendum voters has prompted a political row.
He tweeted: "In southern states of USA post civil war poll tax and other ruses were used to disenfranchise Black people. In 2014 we have Aberdeenshire."
Liberal Democrat justice spokeswoman Alison McInnes said the comments were "crass" and demanded an apology.
An SNP spokeswoman said Mr MacAskill was not comparing the two situations.
First Minister Alex Salmond announced on Thursday that legislation would be brought in to stop councils using details of people who registered to vote in the independence referendum to recover poll tax debt.
He later told the BBC the move was prompted by Aberdeenshire Council officials who he said were putting the "frighteners" on people who owed money.
Mr MacAskill, who has more than 14,000 followers on Twitter, made his comment on Friday night.
Ms McInnes said: "For Scotland's justice secretary to compare this to landmark efforts to secure equal rights is equally insulting to the civil rights movement and to Scotland's councils.
"People expect and deserve better. Kenny MacAskill must apologise for this ill-judged late night tweet."
Scottish Conservative MSP Alex Johnstone said Mr MacAskill's comments were "ill-befitting of someone holding the position of cabinet secretary in the Scottish government".
He added: "To somehow compare the struggle by black people to gain equality post the US Civil War with people on the voting register in Scotland in 2014 is preposterous."
An SNP spokeswoman said the referendum saw the biggest increase in electoral registration in Scotland's history which everyone should be "celebrating not attacking".
She said: "It is extraordinary that the Liberal Democrats seem to be standing shoulder-to-shoulder with the Tories on this matter.
"They should surely have learned the lesson by now that it has been their willingness to act as a human shield for Tory policies that has driven them to bottom of the opinion polls.
"Mr MacAskill wasn't making a comparison between the two situations, and would obviously never do so."