Lib Dems will not see devolution 'hijacked', says Clegg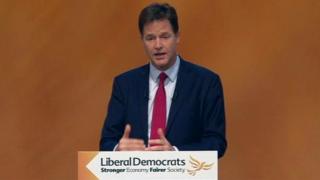 The Liberal Democrats will not allow further devolution for Scotland to be "hijacked, diluted or delayed", Nick Clegg has said.
Addressing his party's conference, Mr Clegg said the Conservatives wanted an "entirely self-serving system of Tory votes for English laws" at Westminster.
And he accused Labour of "ignoring the problem altogether".
The Lib Dem leader also likened Alex Salmond to Nigel Farage, claiming both leaders "want to pull us apart".
In his keynote speech at the close of the Liberal Democrats' annual conference in Glasgow, the deputy prime minister attacked both the Conservatives and Labour.
'Historic vote'
"Within hours of the historic Scotland vote, when we were meant to be cracking on with the plan for further devolution - a plan that this party will not see hijacked, or diluted, or delayed - they were at it again," he said.
"The Tories trying to impose an entirely transparently self-serving system of Tory votes for English laws on the House of Commons, in order to give more say to their MPs.
"Labour ignoring the problem altogether in order to give more say to their MPs.
"Well they can both forget it. Whatever reforms we do will be fair and right by the British people, and that will be guaranteed by our MPs."
Mr Clegg said the independence referendum "forced us to hold up a mirror and think about who we are".
He told party members: "These isles of ours are among the most diverse and inclusive in the world.
"And yet something very un-British is taking root in our politics. A growing movement of people who want to pull us apart.
"Salmond, Farage, the bitter tribalism of left and right - in their different ways they're all doing the same thing.
"A growing pick-a-side politics, in a world of us-versus-them."
Powers pledge
During the referendum campaign, David Cameron, Ed Miliband and Nick Clegg signed a pledge to devolve more powers to Scotland if voters rejected independence.
After the vote, Mr Cameron vowed to give tax-raising powers to the Scottish Parliament "in tandem" with moves to restrict Scottish MPs from voting on English matters.
Downing Street sources later insisted that "one is not conditional upon the other".
The main UK party leaders backed a timetable set out by former Labour Prime Minister Gordon Brown, who said there should be "no strings attached" to promises of more powers for Scotland.
Nicola Sturgeon, who is the favourite to replace Alex Salmond as SNP leader and Scotland's first minister, has said her party still supports independence.
Mr Salmond has argued: "Many of the people who voted 'No' in the referendum did so in the belief that those new powers would be delivered, and that is what now must happen."
The Smith Commission, set up in the wake of the referendum "No" vote to agree new powers for the Scottish Parliament, will hold its first full meeting later in the month.
Representatives of Holyrood's five political parties will gather in Edinburgh on 14 October, aiming to get agreement on the way ahead by the end of November.