Police question Ruth Davidson over referendum postal votes probe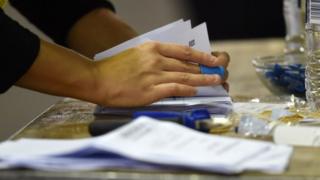 Police have spoken to Scottish Conservative leader Ruth Davidson as part of an investigation into alleged breaches of electoral law.
It follows claims that pro-Union supporters at sample openings of referendum ballot boxes took tallies of postal votes before the count.
Party sources said police spoke to Ms Davidson as a witness and there was no suggestion of wrongdoing on her part.
Police Scotland would not comment on the investigation.
The investigation relates to comments made to BBC Scotland by Ms Davidson about 45 minutes after polls closed in the independence referendum on 18 September.
The Scottish Conservative leader said Better Together agents took "tallies" of postal votes at sample openings held before the count.
Vote verification
Postal ballot openings were held ahead of the official count to verify the ballots were genuine and that the signature and date of birth given along with the ballots matched official records.
The Scottish Independence Referendum Act 2013 stated that ballots must be kept face down during the process and precautions must be taken to prevent anyone from seeing the votes cast.
Agents for the campaigns were allowed to attend but the act forbade them from trying to "ascertain" or communicate the outcome of any vote.
Ms Davidson told the Scotland Decides programme that postal votes were not counted until after the polls closed, but added: "Different local authorities have had openings around the country.
"It is illegal to discuss that while any ballot is ongoing, so until 10 o'clock tonight no-one could talk about it.
"But there are people in the room that have been sampling those ballot boxes as they have been opened and they have been taking tallies and the reports have been very positive for us."
On 4 October it was confirmed that the Crown Office had instructed police to conduct an investigation.
A spokesperson said: "We can confirm that Crown counsel has instructed Police Scotland to commence an investigation into alleged breaches of Schedule 7, Paragraph 7, of the Scottish Independence Referendum Act 2013."
A Conservative Party spokesman said: "Ruth had arranged to speak to police in her office to help them with complaints they had received."