Smith Commission holds second meeting with Scotland's parties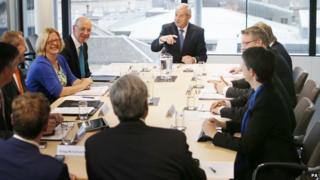 The Smith Commission, set up to reach an agreement on more powers for Scotland, has held its second meeting with Scotland's political parties.
Representatives of five parties held an initial discussion of their proposals for more tax powers.
It followed an initial meeting last week in which a set of principles for the cross-party talks were agreed.
The commission, expected to reach an agreement by 30 November, would not comment on the substance of the talks.
The SNP, Labour, the Conservatives, the Liberal Democrats and the Scottish Green Party were represented at the talks, chaired by Lord Smith of Kelvin.
Each party has put forward proposals for more powers for the Scottish Parliament in policy areas including taxation, welfare, the economy and employment.
All parties advocate further devolution of tax powers but differ on how far to go.
While Labour has proposed giving the Scottish Parliament control of around 40% of the revenue it raises, the SNP has argued that all tax revenues should be retained in Scotland, unless there is a "specific reason" for any to remain reserved to Westminster.
The Conservatives, the Lib Dems and the Scottish Greens support the devolution of income tax.
---
What next for Scotland's future?
During the referendum campaign, David Cameron, Nick Clegg and Ed Miliband signed a pledge to devolve more powers to Scotland, if Scots rejected independence.
Immediately after the result became clear, Mr Cameron appointed Lord Smith of Kelvin to oversee the implementation of more devolution on tax, spending and welfare.
A white paper is due at the end of November, after a period of consultation.
A draft new "Scotland Act" law would be published by Burns Night (25 January) 2015 ready for the House of Commons to vote on.
And legislation would be passed after the 2015 General Election.
Follow the story with the BBC by going to our special Scotland: What Next? page.
---
Following the first all-party meeting on 22 October, Lord Smith said: "We had a constructive discussion and agreed some important principles, which will guide us towards an agreement on a package of substantial and cohesive new powers to strengthen the Scottish Parliament within the UK."
The parties agreed that the eventual outcome of the talks would:
form a substantial and cohesive set of powers
strengthen the Scottish Parliament within the UK
bring about a "durable but responsive" constitutional settlement, which maintains Scotland's place in the UK
not be conditional on the conclusion of other political negotiations elsewhere in the UK
not cause detriment to the UK as whole or its constituent parts
cause neither the UK or Scottish government to gain or lose financially simply as a result of devolving a specific power
be compatible with international obligations, including EU law, and be agreed with a "broad understanding" of potential costs
Members of the public and Scotland's civic bodies have been invited to submit their views by 31 October.