Unison backs Neil Findlay for Scottish Labour leadership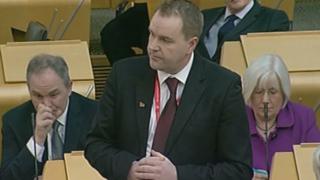 Unison has backed Neil Findlay to be Scottish Labour's new leader.
The Union said it had been "hugely impressed" by the Lothians MSP, who it said offered the chance of a "fresh approach".
Meanwhile, fellow leadership contender Jim Murphy MP apologised to voters for the party's failings.
And the MP Katy Clark has become the first person to enter the deputy leadership contest.
Scottish Labour is currently seeking a new leader and deputy leader after the resignations of both Johann Lamont and Anas Sarwar.
Electoral college
Unison said it had been impressed by both Mr Findlay and fellow Lothians MSP Sarah Boyack at a hustings attended by the two leadership contenders in Glasgow on Saturday.
But the union - which represents about 150,000 public service workers in Scotland - said it would be giving its support to Mr Findlay in the leadership ballot.
Members of affiliated trade unions receive a third of the votes under Labour's electoral college system, with one third going to parliamentarians and the other third to party members.
Unison Scotland's Labour link chairman Gordon McKay said: "Members have been hugely impressed with Neil Findlay since he became an MSP and in particular as Shadow Cabinet Secretary for Health and Wellbeing.
"Neil understands that politics as usual isn't good enough and we believe he offers a fresh approach with a real experience and understanding of the concerns of working people.
"At today's meeting Neil Findlay outlined a radical new policy approach that will be welcomed by our members."
Mr Findlay has also secured the backing of the rail unions ASLEF and TSSA.
ASLEF general secretary Mick Whelan described the MSP as having the "character, vision, talent and ability" to deliver change, while the TSSA said it believed a leadership team of Mr Findlay and Ms Clark would "represent the workable alternative to the market driven madness that is causing so much harm to ordinary people in Scotland and across the UK".
Mr Findlay is a former bricklayer, housing officer and teacher who wants to return Labour to its traditional values.
He has said he wants to work for progressive change and "create a fairer, more equal and prosperous Scotland" by putting social justice "at the heart of everything we do".
---
How is the new leader elected?
Strathclyde University politics Professor John Curtice explains that an electoral college system will be used to elect the next Scottish Labour leader.
He says there are in effect three separate ballots which are each worth a third of the vote.
One third comes from the Labour parliamentarians at Strasbourg, Holyrood and Westminster.
One third comes from members of the party in Scotland
And one third comes from members of affiliated trade unions and affiliated societies
---
Elsewhere, Jim Murphy formally launched his own leadership campaign in Edinburgh, where he admitted that a "lack of vision" and not listening to voters had led to the party being rejected in previous elections.
He said: "The Scottish people want change - they couldn't be clearer. They also want better and many want Labour to be part of that improvement.
"But when they look at us they think we've not listened. It sure looks like that from where they sit, so who can blame them?
"I want to apologise because twice Scots have said they didn't think we were good enough to govern in Scotland - in 2007 and 2011. We didn't listen to them. That has to change."
'Lack of vision'
But he admitted: "For that to happen I know that I have to apologise because too many Scots thought we weren't up to the job in the past.
"It's not our ideals that are out of kilter with Scotland. Scots have backed us to run the UK. All of our previous Scottish Labour Party leaders are proud and passionate servants of our party and our country. Scots back us to run many of Scotland's great cities.
"Let's be honest, it's our vision for Scotland. Or more truthfully our lack of vision. We have been rejected and now we need to change."
Mr Murphy, the former Scottish secretary and current shadow for international development, is the bookmakers' favourite for the leadership role.
His campaign launch was attended by former Chancellor and Better Together chairman Alistair Darling, alongside MSPs John Pentland, James Kelly and Hanzala Malik and Glasgow City Council leader Gordon Matheson.
The East Renfrewshire MP is seen as being on the political right of the party, with some colleagues concerned about his support for Tony Blair, nuclear weapons and the Iraq war.
In a speech three years ago, Mr Murphy said that Labour should "avoid the quicksand of continual apology" and that it "won't win next time by joining others in claiming how bad Labour was last time".
SNP MSP Sandra White described Mr Murphy's apology to voters on Saturday as "somewhat opportunistic" and called for him to instead say sorry for backing the invasion of Iraq in 2003.
She added: "Iraq is a much more significant matter than Labour's poor record in Scotland, given the appalling loss of life and damage it has done to the region and wider international system.
"People in Scotland time and again made clear their opposition to the illegal Iraq war that Jim Murphy's vote helped to usher in."
'More substance'
Bob Thomson, a former chairman of Scottish Labour who campaigned in favour of independence ahead of the referendum, told the BBC he did not believe Mr Murphy was the right man for the job.
And Pat Rafferty, head of the Unite union in Scotland, poured scorn on Mr Murphy's campaign, saying: "Unite's representative members will soon decide who to nominate on behalf of our union.
"On the basis of this speech, it is extremely difficult for them to find much hope that Jim Murphy is offering the genuine, positive change in Scottish Labour they seek.
"We urge him to use the coming days and weeks to give Labour voters much more substance to go on."
What's the Labour leadership timetable?
Date
Event
Friday, 31 October
Nominations officially open
Tuesday, 4 November
Nominations officially close
Monday, 17 November
Voting gets under way
Saturday, 13 December
New leader elected
Ms Boyack, the third leadership candidate, co-chaired the review of Scottish Labour with Mr Murphy in 2011, which was designed to make the Scottish leader head of the entire party in Scotland, including MPs, MSPs, MEPs and officials.
Announcing her intention to stand last Tuesday she said: "Scottish Labour is going to be the key party in the run-up to the UK elections. It's absolutely crucial that we get an Ed Miliband government elected.
"So, that's why I believe in putting my name forward. I can work with colleagues and I can take that debate forward. That is the key thing."
'Secure job'
Meanwhile, North Ayrshire and Arran MP Katy Clark has confirmed her intention to stand for the deputy leadership role which was vacated by Anas Sarwar on Thursday evening.
Ms Clark, who is so far the only candidate for the post, said: "We must recognise that Scottish politics has changed and it can't be business as usual.
"The vast majority of people want a secure job, a decent home and access to good quality public services. This is prevented for too many by wealth being held in the hands of a minority.
"It is unacceptable in the 21st century that people have to queue at a foodbank to feed their children. These are the issues I will be addressing throughout the campaign."
Ms Lamont accused the Labour Party of treating Scotland as a "branch office" when she resigned - a charge that has been rejected by its UK leader Ed Miliband.
On Thursday, opinion polls by Ipsos/Mori and YouGov suggested Labour faces the prospect of losing the vast majority of its Scottish seats to the SNP in next May's general election.
Data from the YouGov poll released on Saturday also suggested that Scotland would vote "Yes" to independence if another referendum were held today - just six weeks after a majority voted "No".
The poll put support for independence at 52% compared with 48% in favour of the Union once undecided voters were excluded.