Labour MSP Sarah Boyack would be 'listening leader'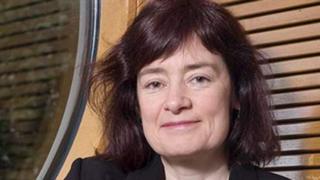 Sarah Boyack has launched her campaign to become the new Scottish Labour leader, promising to make the party "fit for purpose".
The Lothian MSP said she would be a "listening leader" and pledged to tackle "under-funding" in the NHS and local government.
Ms Boyack is up against MP Jim Murphy, seen as the frontrunner for the leadership, and MSP Neil Findlay.
Johann Lamont last month announced she was standing down as leader.
She accused Labour in Westminster of treating the party in Scotland like a "branch office".
The new leader will be announced on 13 December, after a contest decided by a vote involving Scottish Labour parliamentarians, party members and affiliated trade unions and societies.
Speaking in Edinburgh, Ms Boyack said she would publish 100 new ideas aimed at improving lives, after meeting with people and hearing their suggestions during her campaign.
The one-time Scottish Labour minister, added: "I said last week it's time for a proper debate - but not just within my party - we need a proper debate in our country too.
"Let's be radical, let's be bold, let's think to the future, let's take Scotland forward."
Ms Boyack refused to be drawn on whether she would increase tax to pay for "radical" policies, saying issue was "not just an issue about raising taxes... but about new opportunities as well".