Alex Salmond rebuked by statistics boss over UK growth figures claim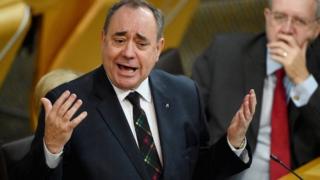 Scotland's former first minister has been reprimanded for claiming Westminster politicians interfered with the reporting of economic data.
Alex Salmond said UK growth figures appeared to be on the up because officials had been instructed to change the statistics.
However, UK Statistics Agency chairman Sir Andrew Dilnot rejected the claim.
In a letter to Mr Salmond he said the Office for National Statistics (ONS) was independent of politicians.
The controversy was sparked during the first minister's final question time session in Holyrood.
Mr Salmond said Chancellor George Osborne had "managed to inflate the UK growth figures" by having calculations revised to include the spending on illegal activities like drugs and prostitution.
He told the chamber that the apparent boost was "not because the economy had improved but because the government had instructed the officials and statisticians to change the statistics".
Sir Andrew has urged Mr Salmond to retract the comment.
In a formal letter, he told the MSP: "I want to be quite clear that it is not the case that the Office for National Statistics (ONS) was instructed by the Chancellor of the Exchequer, or any other member of the UK government, to revise the UK National Accounts.
"Decisions in relation to this programme of work are taken exclusively by statisticians at ONS, in line with international standards and best practice.
"The changes were part of an international agenda and were intended to ensure that the UK National Accounts continue to provide the best possible framework for analysing the UK economy and comparing it with other countries."
He said the Office for National Statistics had been entirely "open and transparent" about the changes, which were part of a Europe-wide adoption of revised standards.
In the letter, he wrote: "I would very much appreciate it if you would reconsider these comments. You may also wish to take advice on whether it is necessary to add a note of correction to the official parliamentary record."