John Swinney calls on George Osborne to commit to new Holyrood powers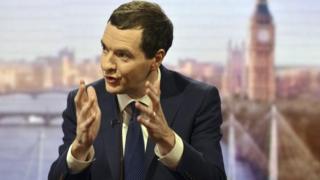 George Osborne has been urged by the Scottish government to make an "early commitment" to transfer more powers over tax to Holyrood.
Deputy First Minister John Swinney also called for the chancellor to increase capital investment in Scotland.
And he said the minimum wage should be raised by at least the rate of inflation.
He was speaking ahead of Mr Osborne's Autumn Statement, which will be outlined on Wednesday.
Mr Osborne has said the statement will include a pledge to put an extra £2bn into frontline health services "across the United Kingdom", which the Treasury has said will result in the NHS in Scotland benefiting by about £125m in 2015/16 as a result of the Barnett Formula.
The Smith Commission, which was set up by Prime Minister David Cameron after Scots rejected independence in September's referendum, unveiled a series of recommendation for further devolution last week.
'Scotland's interests'
They included devolving air passenger duty and also giving MSPs power over income tax rates and bands, with all the cash raised in Scotland going to Holyrood rather than Westminster.
Mr Swinney, who is also the Scottish government's finance secretary, said: "The chancellor must use this Autumn Statement to make an early commitment to deliver on the financial powers of the Smith Commission and to do so as soon as possible."
He added: "The Smith Commission did not recommend the job-creating powers I wanted to see come to Scotland but there is action the UK government can take to support internationalisation in the Scottish economy and to boost innovation.
"If these powers are not to be transferred to Scotland then the UK government must show that it will use the powers it has kept in Scotland's interests."
He argued that the Scottish government was "doing all it can, within its powers, to strengthen the Scottish economy," but said Westminster budgets had "undermined" work to support economic growth.
Mr Swinney also said that continuing with the coalition government's programme of austerity economics would hurt some of the most vulnerable people in the UK.
Instead, he called for action to be taken to "reverse the erosion of the pay levels that those receiving the national minimum wage have experienced since the economic downturn".
He said: "We believe that the national minimum wage should, as a minimum, increase in line with inflation.
"It is also vital that we tackle geographic disparities and use large-scale infrastructure projects to maximise opportunities for economic growth in Scotland and across the UK, rather than strengthening existing economic imbalances which benefit the South East of England.
"In that spirit I call on the Chancellor to increase infrastructure spend to support growth. Such investment in the future of our country's economic health will not only create jobs and prosperity but will, in time, boost the public finances."
Mr Swinney was speaking as the Scotland on Sunday newspaper reported that the SNP's manifesto for next May's general election will call for the Smith Commission proposals to be "beefed up" by having the minimum wage, income tax personal allowance and more benefits transferred to Holyrood.
And First Minister Nicola Sturgeon told the Murnaghan programme on Sky News on Sunday morning that she wanted the Scottish Parliament to be given greater control over taxation.
She said: "The Smith Commission recommends income tax be devolved, though interestingly it says the personal allowance of income tax, which is one of the key levers you could use to lift people out of poverty, should remain reserved to Westminster."
Responding to Ms Sturgeon, Scottish Liberal Democrat leader Willie Rennie accused the first minister of "wanting to bring in a new tartan tax for hard-pressed workers".
Mr Rennie said: "Demanding the personal allowance must mean the SNP want to increase tax. They should come clean.
"In the independence White Paper the SNP proposed £450 more tax for those on low and middle income earners. The last thing low-earners need just now is to pay more tax but it seems that is what the SNP want to do."
New poll
Meanwhile, a new poll has suggested that a majority of Scots think Holyrood should control all taxes and benefits - and then keep them at a similar level to the rest of the UK.
The ICM poll of 1,500 people between 6 November and 12 November found 63% of people in Scotland supported the full devolution of both taxes and welfare.
However, 43% said they should then keep taxes the same, compared with 17% who said they should go up and 15% who said they should go down.
More than half said unemployment, low income, housing and disability benefits, plus VAT, income tax and the state pension should all remain the same. Around 45% said oil and corporation taxes should stay the same.