Scottish Labour to unveil new leader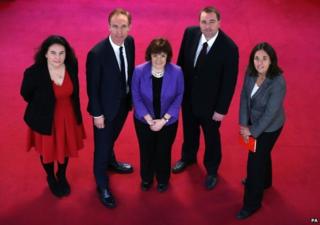 Scottish Labour is announcing its new leader, with former UK cabinet minister Jim Murphy the perceived frontrunner to win the contest.
The MP and former Scottish secretary is standing against MSPs Neil Findlay and Sarah Boyack.
Johann Lamont quit the leadership in October, accusing Westminster colleagues of treating Labour in Scotland like a "branch office".
Scottish Labour will also name a new elected deputy leader.
The party uses an electoral college to decide the victor.
Party members and Scottish Labour MPs, MEPs and MSPs each get a say in electing their new leader, as well as unions and affiliated organisations.
Mr Murphy, who served in Gordon Brown's cabinet, has won more support from declared elected Labour members and local parties than his nearest rival, Mr Findlay.
However, the left-wing MSP has won significant backing from unions, meaning ordinary party members may have the decisive say on who wins the race to lead Scottish Labour.
---
ANALYSIS
By Andrew Black, BBC Scotland political reporter
Unless there's any kind of shock upset, it looks likely Jim Murphy will today become Scottish Labour's new leader.
The East Renfrewshire MP has been the perceived frontrunner all along and he's regarded by key figures in the party as the best - and perhaps only - hope of making Scottish Labour winners once again.
But, among those who get a say, support for his elevation to the leadership is by no means universal.
Under Scottish Labour's complicated three-part electoral college, Mr Murphy has been strongly backed by parliamentarians (MPs, MSPs and MEPS), who get a third of the vote.
But the majority of unions - whose members' votes also account for a third - have thrown their support behind his nearest rival, left-winger Neil Findlay.
So it looks like a decisive say may go to the final third - ordinary party members. The Murphy camp is confident in this regard, given he's been backed by more than 30 Constituency Labour Party branches.
If he wins, Mr Murphy's first challenge - before he can think about policies, manifestos and elections - is the state of Scottish Labour itself.
After his leadership predecessor Johann Lamont claimed Scottish Labour was treated like a "branch office" by Westminster colleagues, Mr Murphy has pledged to unite the party and ensure it makes all its own decisions in future.
And if Mr Murphy wants to realise the dream of becoming Scottish first minister, he'll have to outline his plan for winning a Scottish Parliament seat in the 2016 election, if not before.
It might all seem like a tall order, but it would be a journey not dissimilar to the one taken by Alex Salmond.
Ten years ago, he became leader of a demoralised SNP, made the switch from Westminster to Holyrood by winning a Liberal Democrat seat, and became Scotland's longest-serving FM.
---
Mr Murphy, who quit as shadow international development secretary to stand for leader, has insisted that, under his watch, Scottish Labour would make all its own decisions.
The East Renfrewshire MP, who said he wanted to become Scottish first minister in the 2016 election, would also need to win a Scottish Parliament seat if elected leader.
Mr Murphy, seen as being on the political right of the Labour Party, has backed plans for a 50p tax rate for high earners, as has Mr Findlay.
Mr Findlay, who is Scottish Labour's health spokesman, entered the leadership contest after former prime minister Gordon Brown ruled himself out of standing.
The Lothian MSP pledged to put strategy to end poverty and youth unemployment would be at the heart of Scottish Labour's 2016 election manifesto.
Ms Boyack, a former Scottish minister who was the first to announce she was standing for Scottish Labour leader, vowed to tackle "under-funding" in the NHS and local government, if she became leader.
The result of the contest to replace MP Anas Sarwar as deputy Scottish Labour leader is also being announced.
The two contenders for the job are MSP Kezia Dugdale and MP Katy Clark.