Alex Salmond's first minister gifts raise £42,000 for charity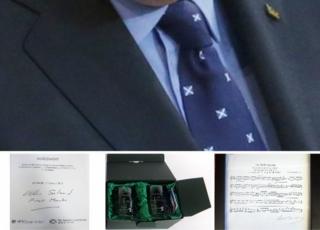 Gifts given to Alex Salmond during his time as first minister have been sold at auction for £42,100.
Mr Salmond's Saltire tie, which was among the 300 lots, raised £1,600.
Also on sale were signed copies of the Scottish Referendum Bill and the Edinburgh Agreement.
Mr Salmond said he was "delighted" at the amount raised which will go to children's cancer charity Clic Sargent, the Scottish Youth Theatre and St. Jerome's Children's Home in Kenya .
The orphanage is run by 23-year-old Gemma Steele, the winner of this year's Young Scot Unsung Hero Award.
Earlier Mr Salmond had said the auction would be like "the best episode of the Generation Game".
It is the first time a departing first minister has donated his official gifts and memorabilia to charity.
Speaking after the sale at Great Western Auctions, Mr Salmond said: "I am delighted that the sale of these items have raised an incredible £42,100 for children's charities and even more will be added to this total when further artworks are sold at the Fine Art Auction early next year.
"Over seven and a half years as first minister I was presented with many wonderful gifts - from novelty items, like soft toys or a Zulu spear, to high-value items like artwork, Cartier cufflinks or rare stamps.
"These were gifts to me as Scotland's first minister and so, on leaving office, I am delighted that their proceeds from this Christmas auction will now benefit three great Scottish charities.
"I was amazed that my Saltire tie alone raised a staggering £1,600."
'Cherish and enjoy'
The gifts had been received by Mr Salmond from people including heads of state, industry leaders, artists and school pupils and had been displayed at Bute House, St Andrews House or in the Scottish Parliament.
Mr Salmond added: "Instead of packing these items away when we left Bute House, Moira and I were keen that other people be able to treasure them and raise money for charity in the process.
"There was something for everyone here today, for every pocket, and I hope those people who have bought one of these mementos will cherish and enjoy them as much we did."
Also among the lots were an original Jolomo painting gifted by Scottish artist John Lowrie Morrison, and a crystal horse from Qatar valued at £655.